If you have ever heard the term "blind corner cabinet" and had no idea what it means, you aren't alone. Simply put, a blind corner cabinet is a corner kitchen cabinet that has a non-visible storage area when the door is opened. Hence the term, blind cabinet.
These are found in kitchen corner cabinets, either in the base cabinets or upper wall cabinets. This is where your kitchen cabinets typically make a 90 degree turn.
IKEA kitchen corner cabinet option one:
Today, IKEA creates multiple solutions for corner kitchen cabinets, some of which are not blind corner cabinets. This option uses an angled cabinet on the wall with a single door closure (B), while the base cabinet comes as a bi-fold door setup (A) with an equal depth and width.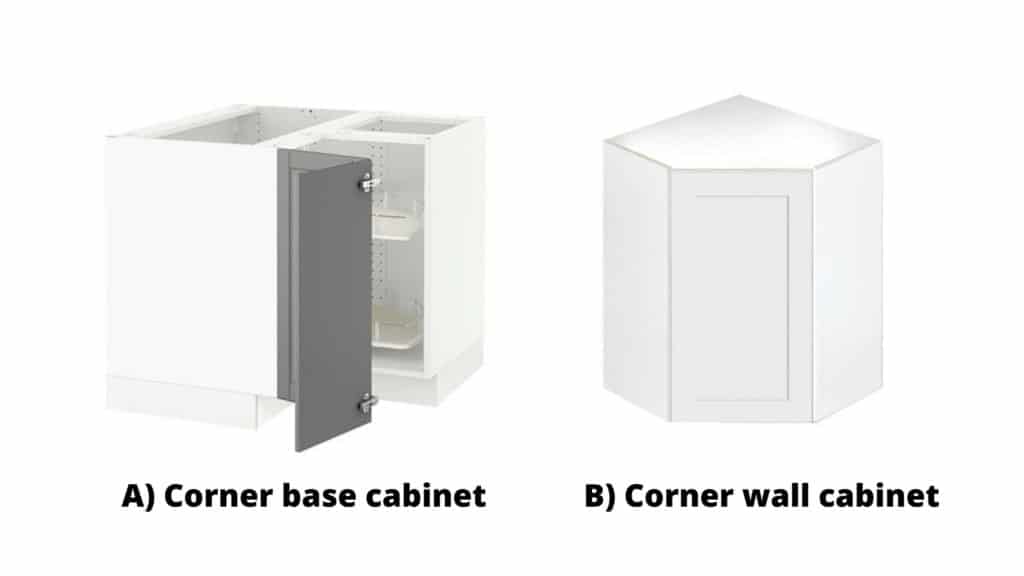 When either of these corner kitchen cabinets are opened, everything inside is visible. Thus these are NOT considered blind corner cabinets. These options work great in some kitchen plans (we used one at Hilltop), but are not suitable in ever design.
Let's use our Hilltop kitchen as an example where the corner base cabinet was the bi-fold door design from above. We were confined by the location of the sink and the range with only a limited amount of space for the corner kitchen cabinet. This corner base cabinet requires a depth and width of 38″ (IKEA's blind corner cabinet requires 47″). In our space, this worked perfectly, whereas a blind corner cabinet would have pushed our sink off-center or our range too far to the left.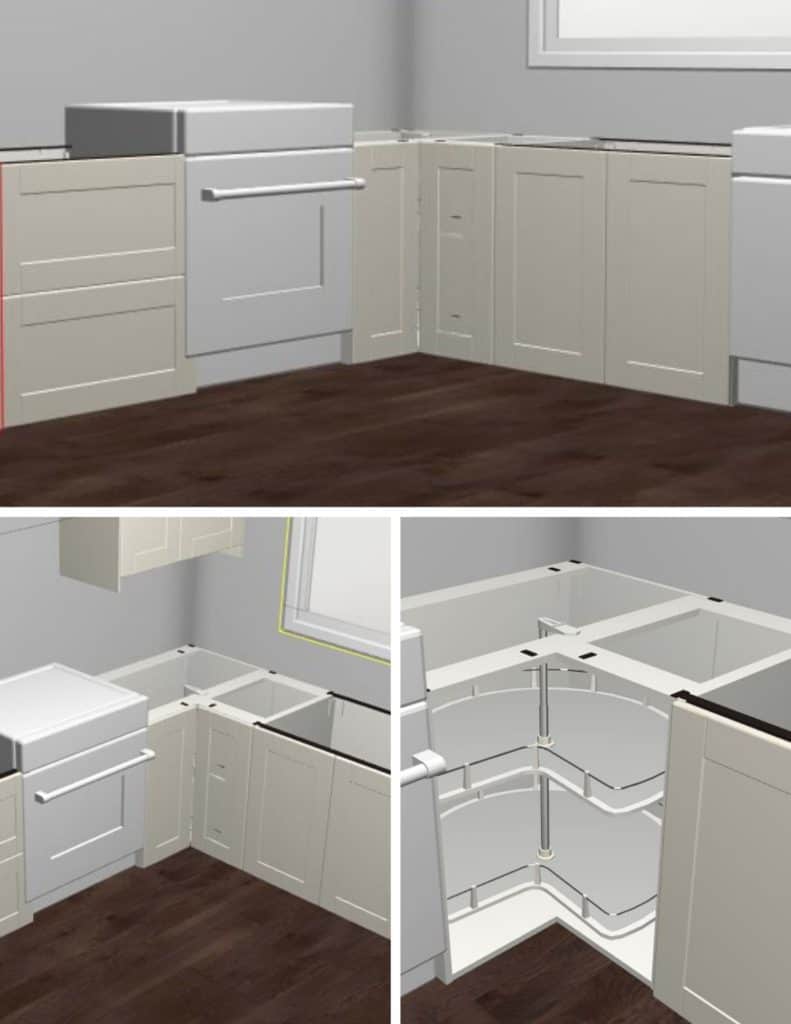 The same argument could apply for the corner wall cabinet in kitchen design. However, the angled wall cabinet comes with some downsides as well.
It doesn't suit modern kitchen designs
the shelves are very deep making it difficult to reach the back of the cabinet
It requires more space than a blind corner cabinet in some kitchen plans
IKEA blind corner cabinets – option two:
IKEA also makes another option, the blind corner cabinet. As mentioned above, these are described as blind corner cabinets because some of the storage area is not visible when the door is opened. Both the base and wall cabinets have panels blocking part of the storage area.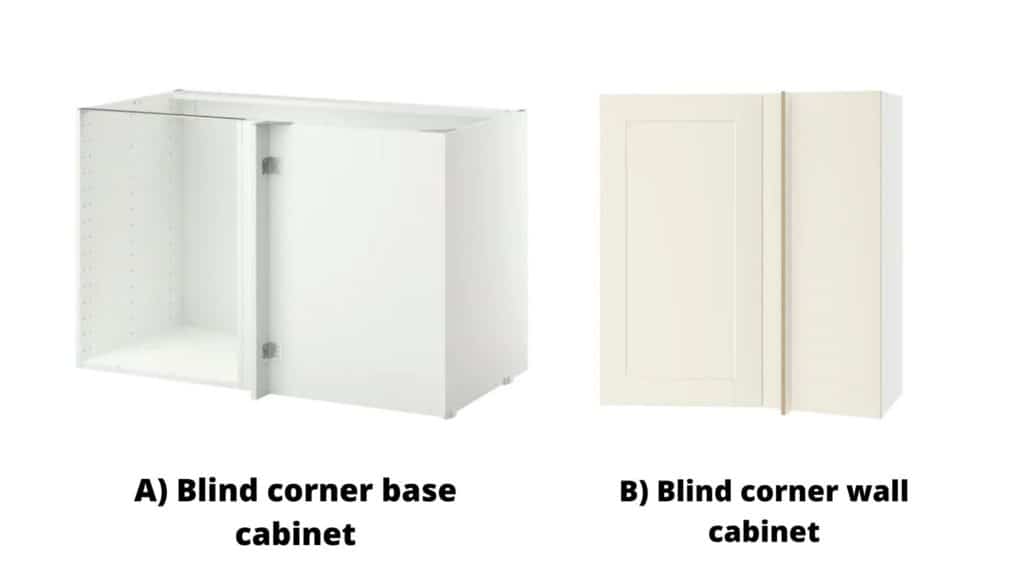 Why use a blind corner cabinet?
There are multiple reasons why we use blind corner cabinets in kitchen plans.
Space. They maintain a standard depth (24″ for base cabinets and 15″ for wall cabinets)
Modern design
Flexibility
Functionality. Yes I think they are more functional- more on that later.
Space
Just like some kitchen plans force you into the standard corner kitchen cabinet discussed above, others will force you into the blind corner cabinet. In a couple of months you will see how we used a blind corner cabinet in the kitchen plan for The Partridge House. This allowed us to keep the sink centered beneath the window, and fill out the base cabinetry all the way to the range.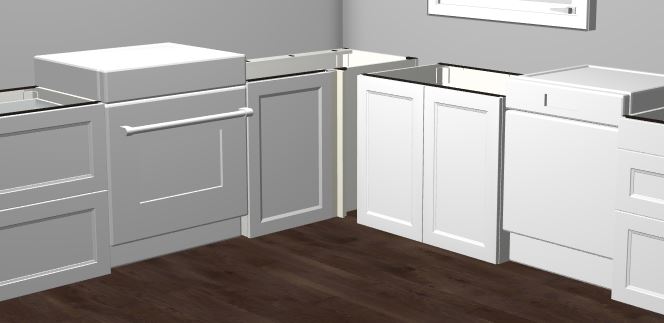 The gap you see between the corner cabinet and the sink cabinet will be filled with a custom built skinny cabinet. The need for blind corner cabinets has come up in many of our kitchen designs.
Design
This applies more to the corner wall cabinet. Current design trends are moving away from the classic angled corner cabinet to a flat finish or square corner.
A flat finish is when you run standard wall cabinets all the way to the corner. Just remember you need a small spacer in order to ensure your cabinets open completely.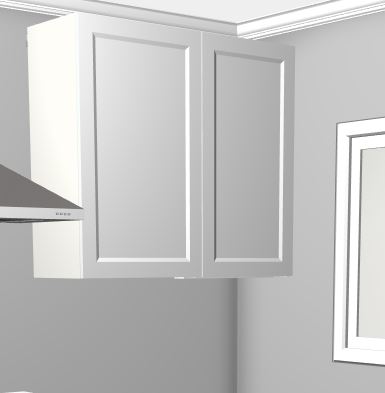 A square corner takes advantage of a blind corner cabinet. This allows the wall cabinets to mirror the shape of the base cabinets in the corner, forminf a straight 90 degree turn. The beautiful part of finishing the wall cabinet like this in the corner is flexibility, with the option to adjust the corner as needed.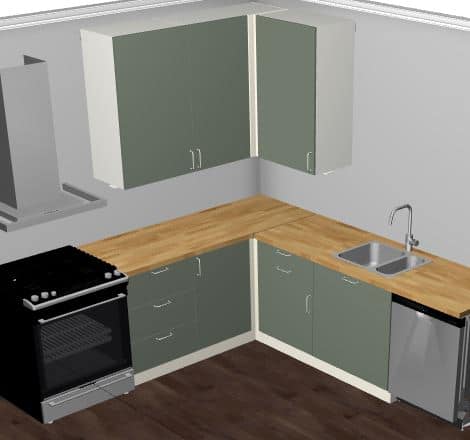 Flexibility
Using blind corner cabinets gives you ultimate flexibility when creating a kitchen plan.
Part of the trouble with off-the-shelf systems such as IKEA's SEKTION line is that you can lose flexibility and customization due to the standard sizes. Therefore it is fantastic when you can gain some of this back. This is an IKEA hack that uses filler panels to hide the standard white cabinet box and move the blind corner cabinet away from the side wall. This hack can also be customized taking advantage of 30″ and 36″ wall cabinets, but more on that in another article.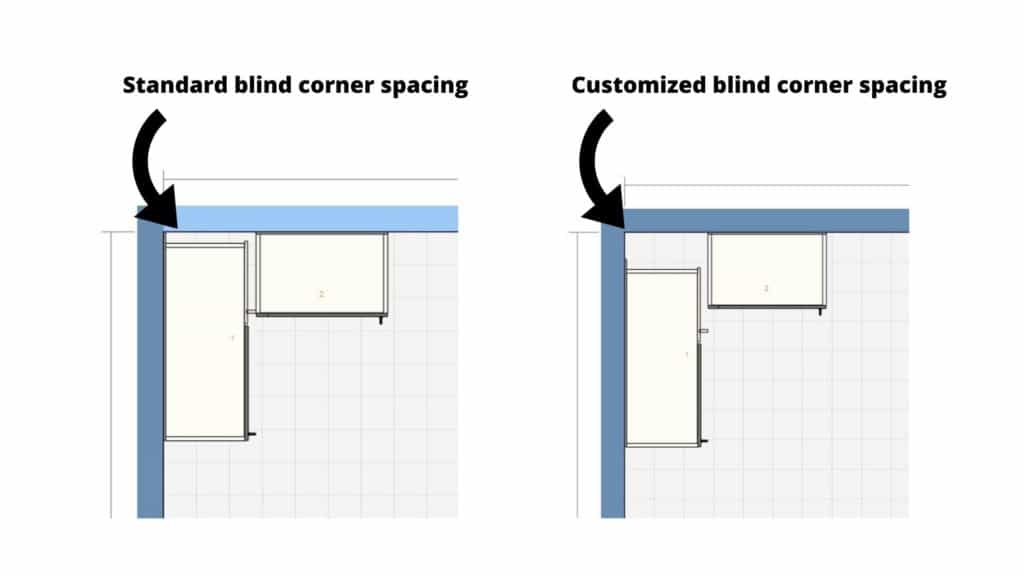 This method works great if you need a few extra inches on your wall cabinets to create the perfect spacing. The downside is you create some dead space in the corner that will need to be finished off from underneath.
---
---
Filler panels are used no matter which of these blind corner cabinet methods you choose. Especially if you plan to go with anything other than white cabinet doors.
This same tactic can be used for blind corner cabinets in your base as well. The exact same principles apply. Move your cabinet away from the side wall as necessary, and cover the white cabinet box with a filler panel to match the cabinet doors.
Functionality
My biggest pet peeve in kitchen designs is poor functionality. Having a wall cabinet where the back cannot be reached without using a chair can be rather annoying. Plus there aren't many products available through IKEA or aftermarket to improve angled wall corner cabinets (some lazy susans do exist).
At least their base corner cabinet with bi-fold doors can be fitted with a full lazy susan to help with accessibility. However, that skinny opening can be a pain if you are storing small appliances or large pots.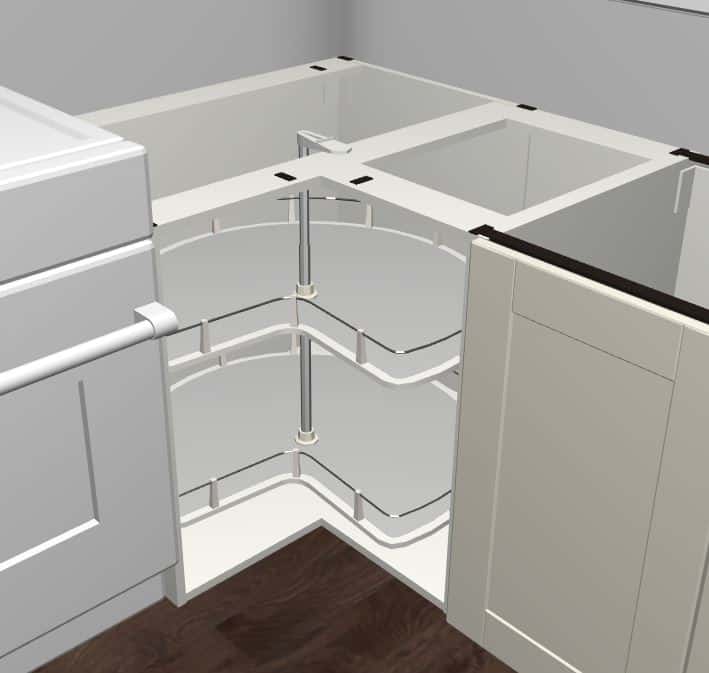 IKEA's blind corner kitchen cabinet can be fitted with the kidney shaped lazy susan. It eliminates the blind aspect of the cabinet making everything accessible. Not only does it swivel out of the cabinet, but it is also on rails to pull out even further. It does sacrifice on some storage space, but I'll take that trade-off everyday for increased functionality.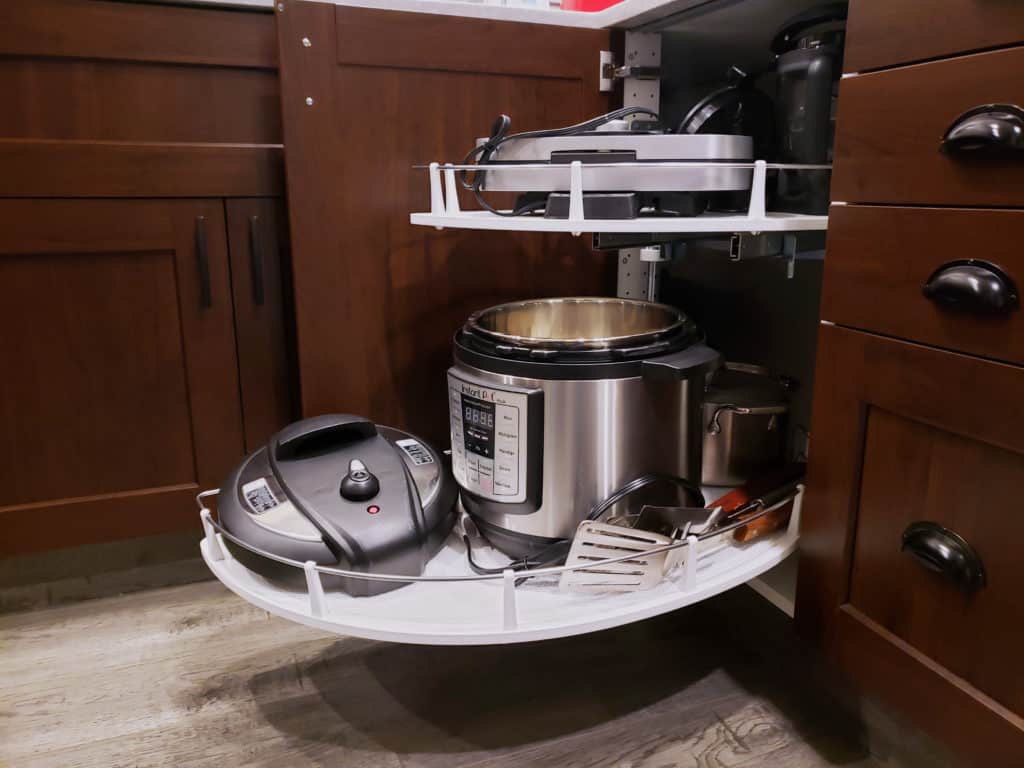 Although IKEA doesn't make anything like this for the blind wall corner cabinet, there are numerous aftermarket accessories available.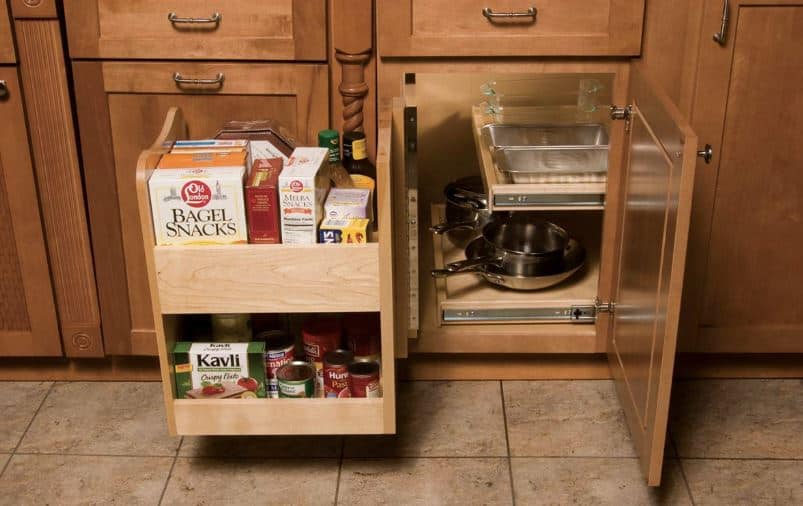 This shows an organization caddy in a base cabinet, although the same principal can be applied to a wall cabinet. Sliding shelves are also available, but some custom woodwork would need to be done to actually make them functional.
You may also enjoy: