The mailbox is a funny thing. Boring and bland, and no one will think twice. However, a unique mailbox design, and your letter carrier will do a double take. Almost anyone walking by notices a creative mailbox post sitting in the front yard. You could even say the mailbox connects our homes with the outside world.
They stand on every front walk and at the end of driveways, serving as our homes landmark. The classic mailbox goes hand-in-hand with improving a homes curb appeal, and often a little change can make a world of difference.
Below we give you instructions to build a mailbox post just like ours, as well as 21 unique mailbox ideas created by others!
Our DIY mailbox post
We use to have 'that' mailbox at our house. The metal one barely hanging by a single screw off the white picket fence- it was terrible! Even worse it took away from the rest of our landscaped yard. But for some reason, we never made replacing it a priority.
Finally, the day came to replace our ratty old one with a proper mailbox post. I ordered a black post mount mailbox off the internet and went digging in my scrap woodpile to see what I had.
Mailbox post design and construction
I created a simple design that ties in with our wood beams and eventually the new front fence. A combination of 2×2's, 2×4's, and 2×6's attached to a 4×4 post.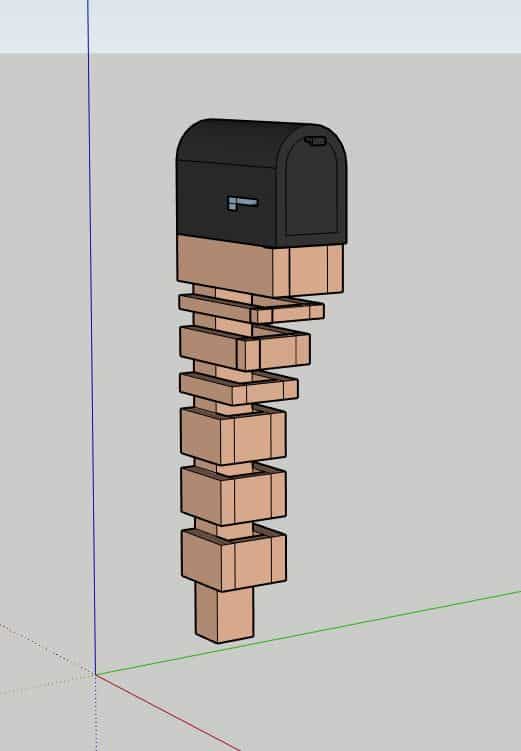 Step 1: Set your mailbox post height
I used a post anchor to secure my 4×4 so my mailbox was movable. Once it was firmly hammered into the ground, I set my mailbox height and cut the post to 42″. Don't secure the post into the anchor just yet.
Step 2: Cut the horizontal pieces
Take some creative liberty in this step and cut the pieces to whatever size you prefer. My first coarse was a 2×6 cut to 20″ in length (the length of my mailbox). Cut one end at 45 degrees. Repeat this exact same cut for the other side. The final piece for this row is cut at 45 degrees on both ends so the three pieces can be mitered together (see photos below).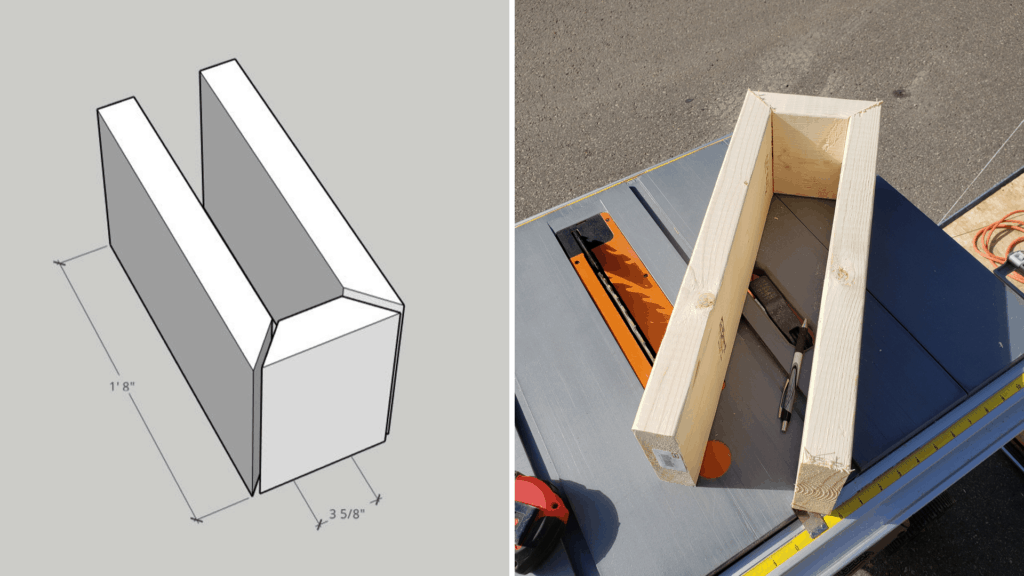 If you don't own a miter was, these cuts can also be made with a hand saw and a miter box.
Step 3: Repeat horizontal cuts
Continue the same cuts for the remainder of the post. I varied the thickness of the horizontal rows randomly from the top to bottom to create a more unique mailbox design. For the skinniest sections, I ripped a 2×4″ in half on my table saw. Tip- any time you are ripping skinny pieces on a table saw, be sure to use some sort of push stick. These can be made or purchased.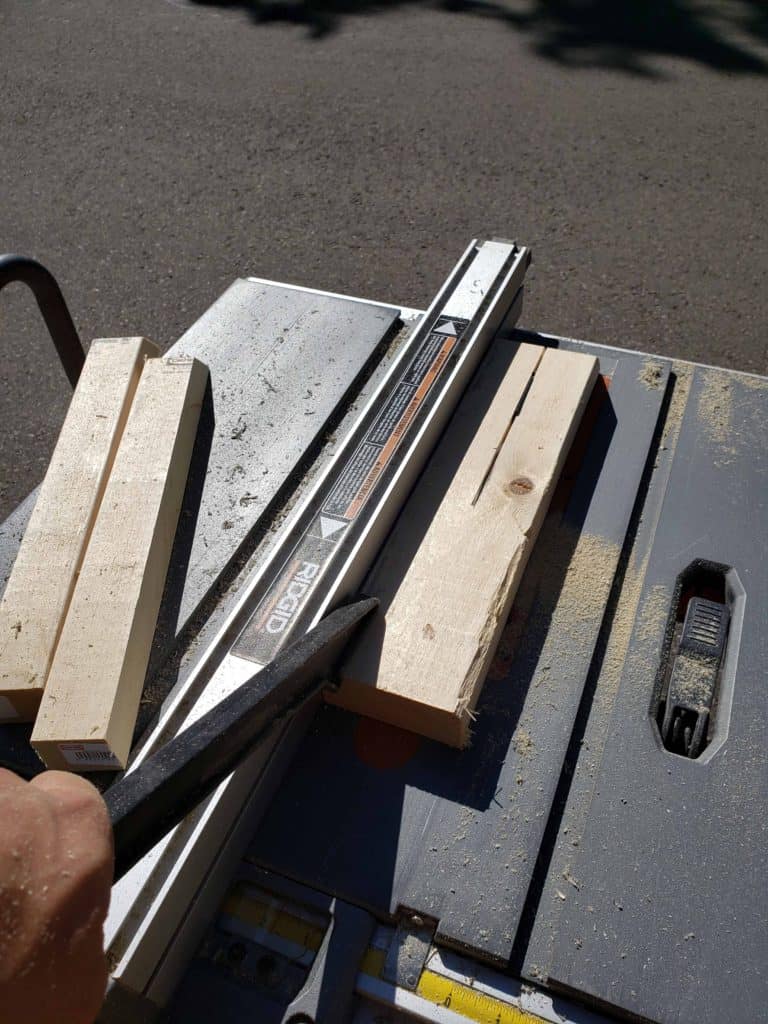 Step 4: Add the horizontal rows to the mailbox post
I found it easiest to assemble the U-shaped horizontal rows before attaching them to the post. I used small finishing screws for assembly. Pre-drill the holes beforehand to prevent the boards from splitting.
Once the horizontal rows are assembled, attach them to the mailbox post. Use trigger clamps to hold everything snug when mounting, and a set of blocks to keep the spacing even from one row to the next.
Step 5: Stain/seal the wood
I used Cabot Australian timber oil for this project. It is the same stain used on the timbers around our house, and will also be used on the front fence (when I build it…). I love this stuff and it's incredible durable. The beams on our house were stained 5 years ago and they still look the same as the day they were done.
Step 6: Attach the Mailbox
Attach the mailbox, plumb the post and tighten the anchor bolts in the spike. That's it!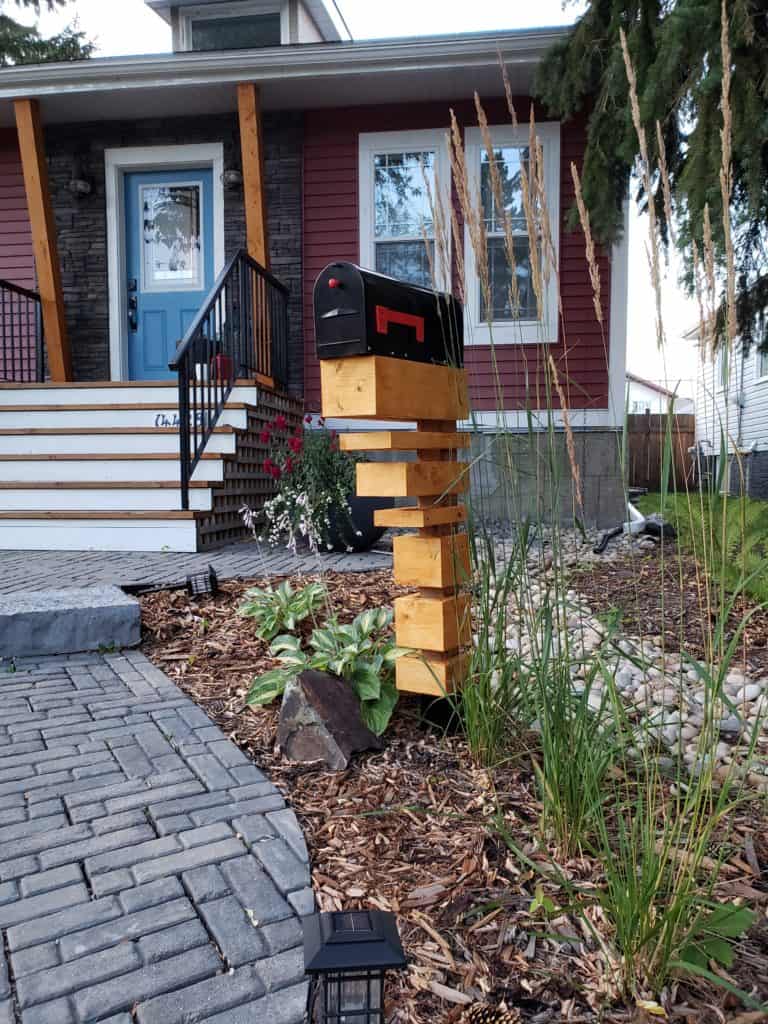 This is a really simple DIY mailbox post idea that anyone can tackle. All of the miters take a couple hours to cut and assemble, but that is the only difficult part to the whole process.
You may also be interested in these other DIY projects.
21 unique mailbox ideas we love
Shaker style post with copper mailbox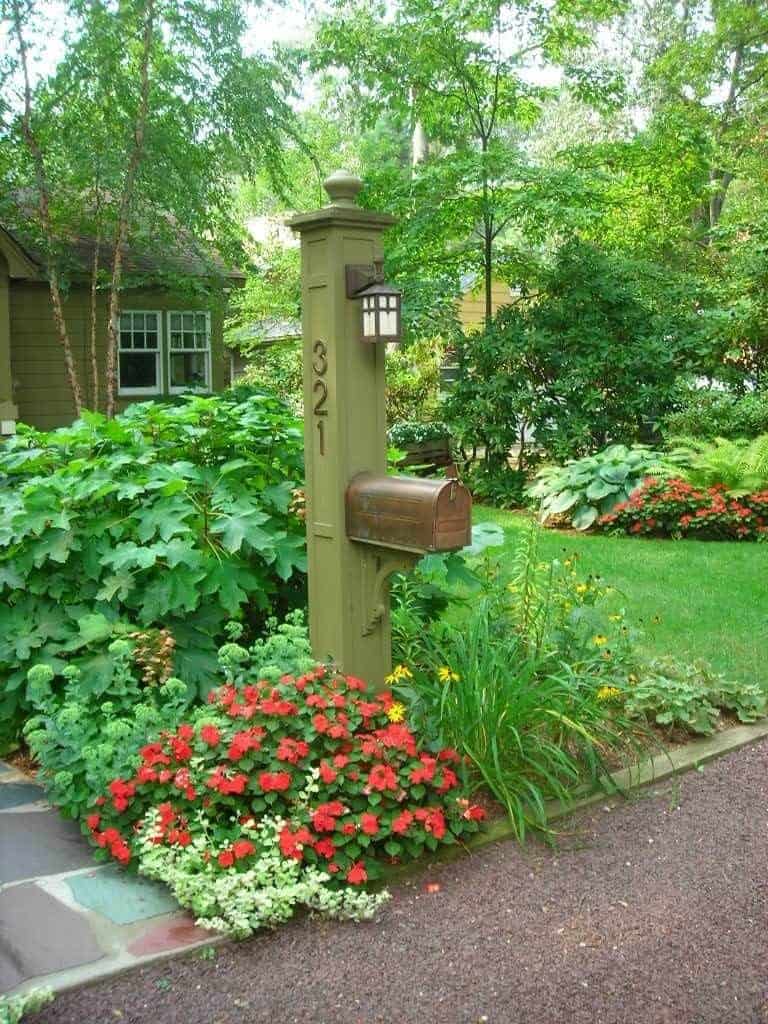 This is a more traditional design, and the addition of the copper mailbox and the light really bring out the cozy feeling of home.
Craftsman mailbox idea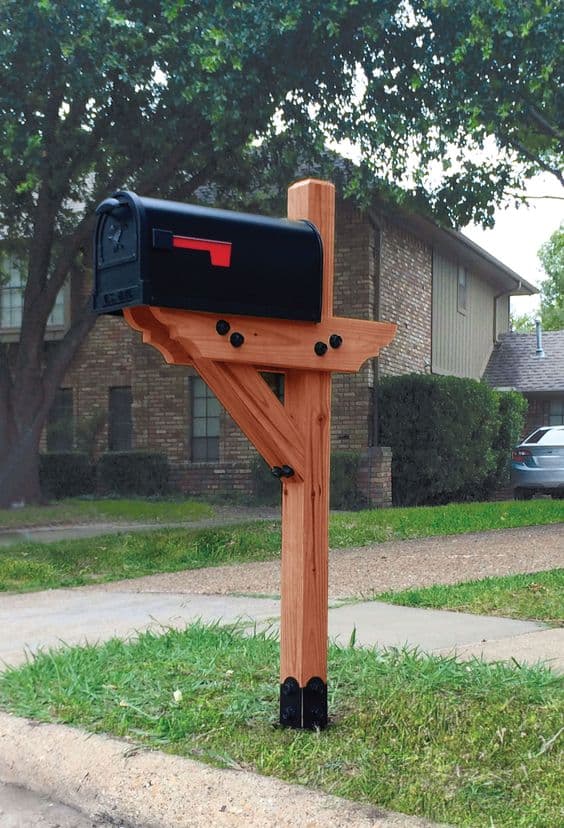 Simple, yet classic is the best way to describe this craftsman style mailbox. This is a great choice if you have earth tones or wood timbers on the house.
Cinder block potential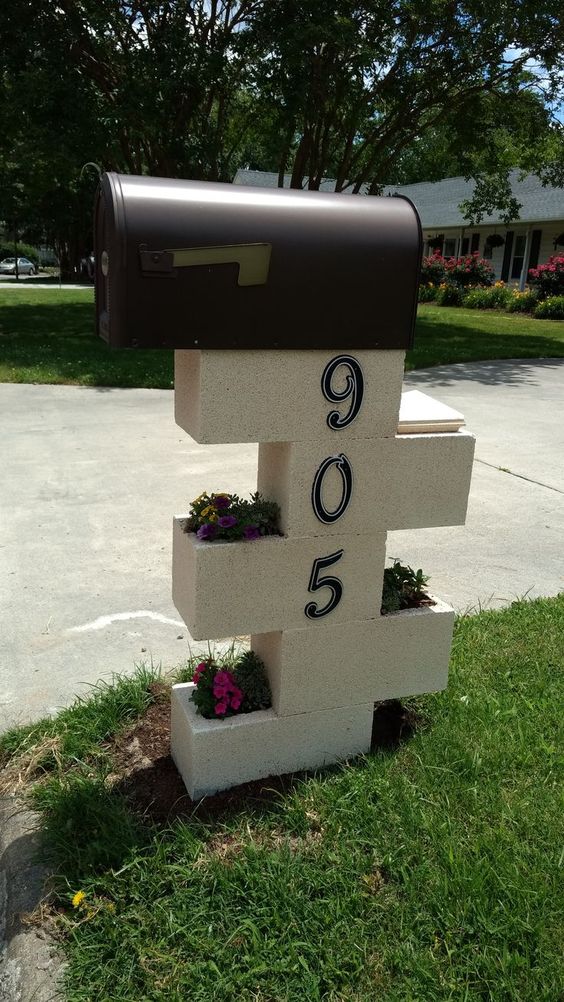 Cool and contemporary. Although the flowers look neat, they will dry out quickly against the stone.
Slatted wood mailbox idea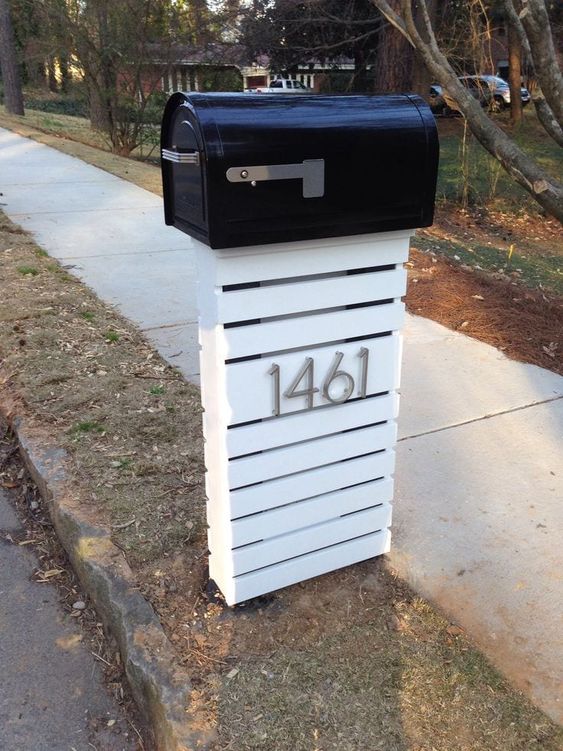 Clean lines and suitable to many homes. The addition of the house numbers is a nice touch.
Mid century mailbox design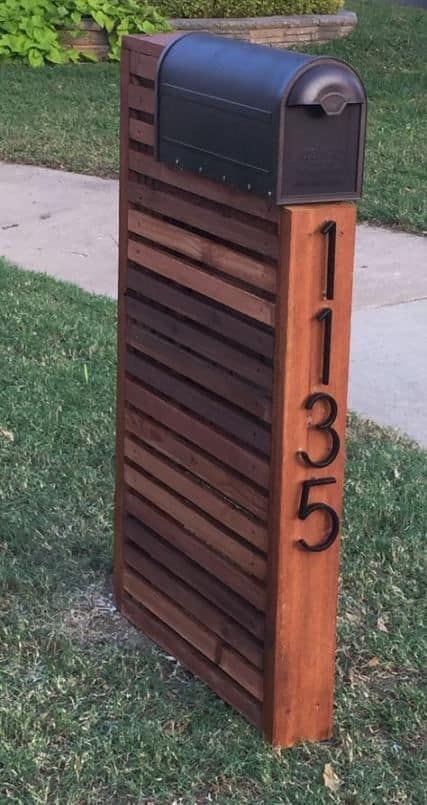 An easy mid century mailbox post idea to emulate for a weekend project.
Victorian pedestal mailbox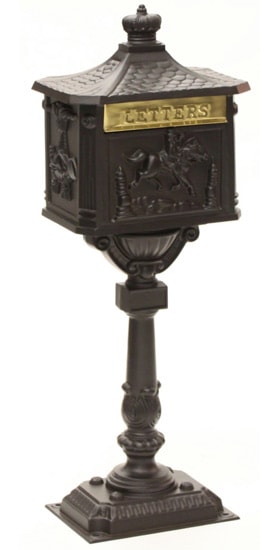 Obviously not a DIY mailbox post, but they can be purchased. I included it because I love the style of Victorian pedestal mailboxes.
Another craftsman mailbox post idea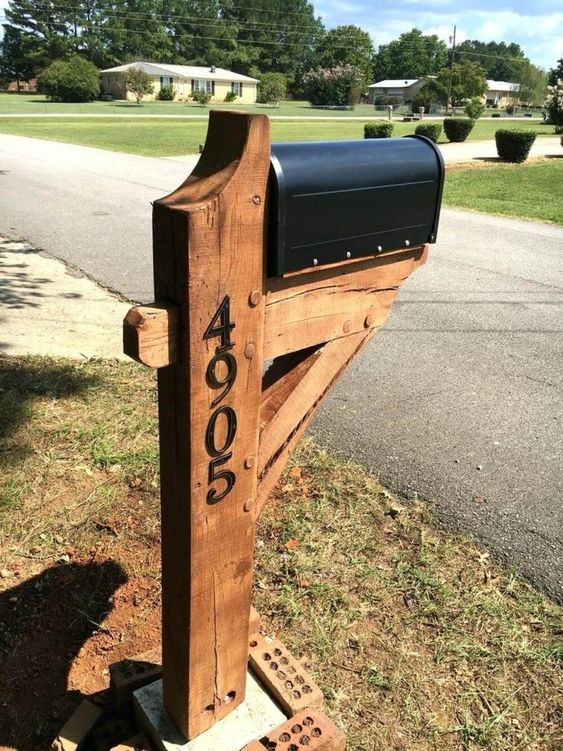 A more complicated craftsman design. This unique mailbox design involves mortise and tenon joints. If you are going to build this, maybe skip the holed bricks at the bottom 😉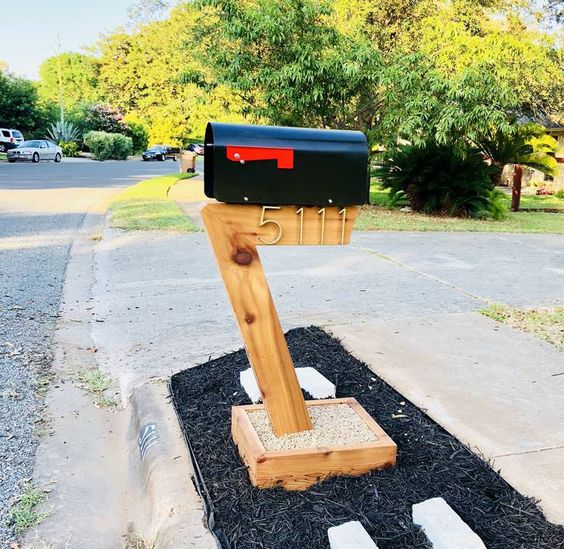 I am sooo adding this unique mailbox design to the first mid-century home I flip. It is definitely a head turner.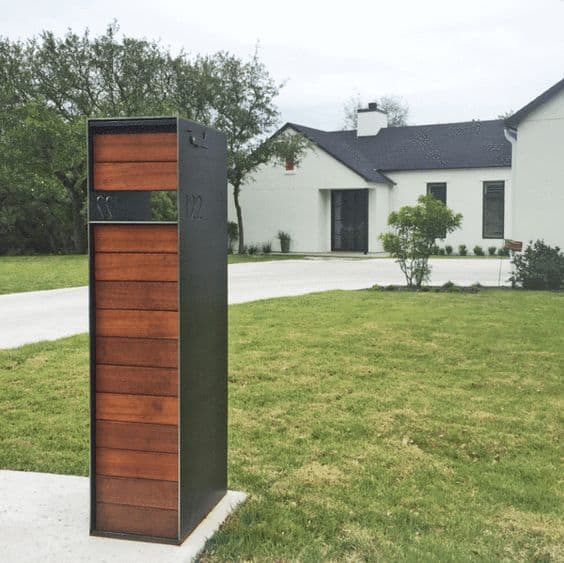 Drastically more expensive than any other option on this list, but still a very unique mailbox design.
Modern single post mailbox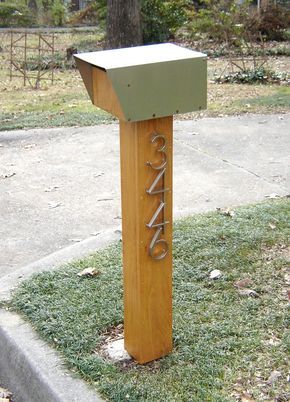 A mailbox post idea that combines modern and traditional designs.
Cottage style mailbox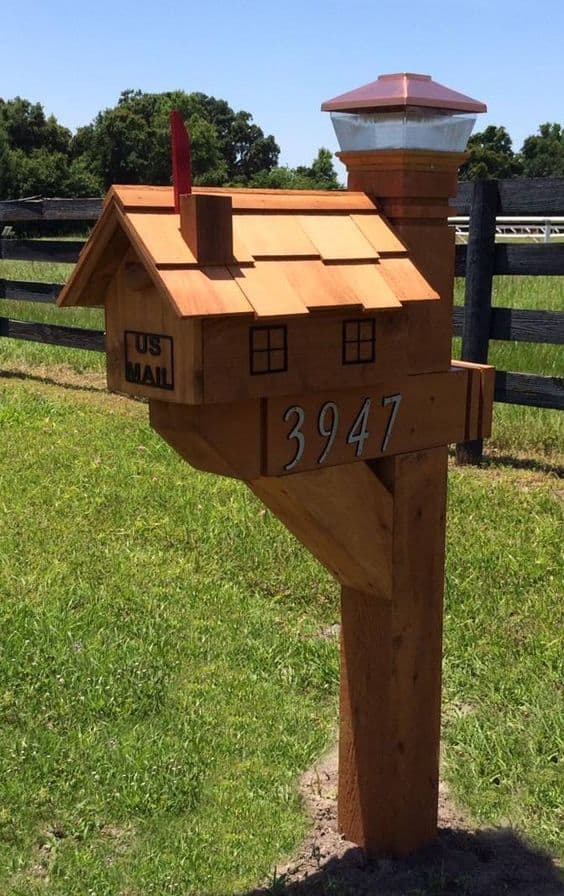 A playful mailbox post idea; especially suited to cottages and rural properties.
Another mid-century mailbox idea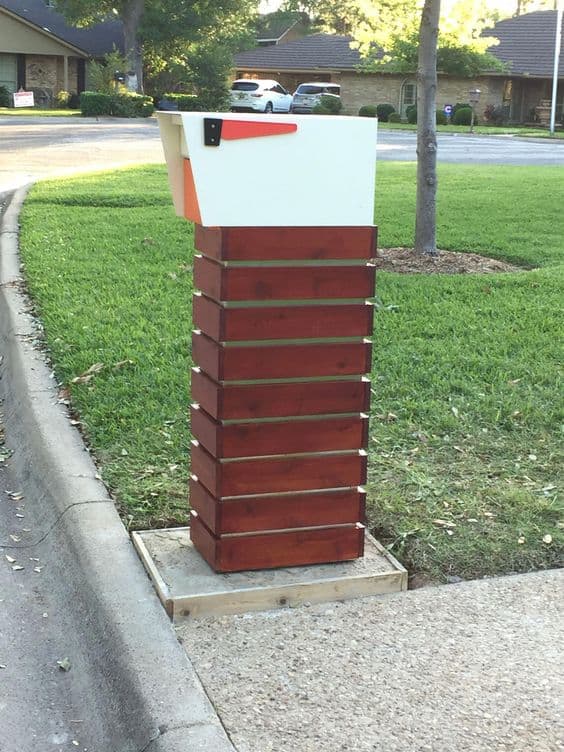 Clean lines and the pop of orange peeking through are a solid nod to the mid-century modern design.
Heavy duty mailbox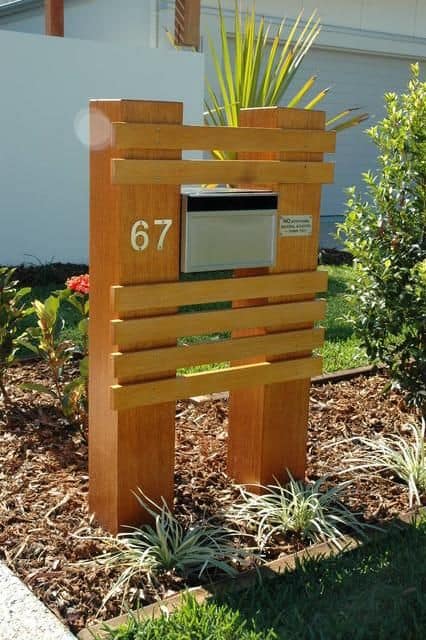 Thick styled design acting more as a small fence. One change would be to add easier access for the letter carrier in the front with a stepping stone or path.
Timber style mailbox post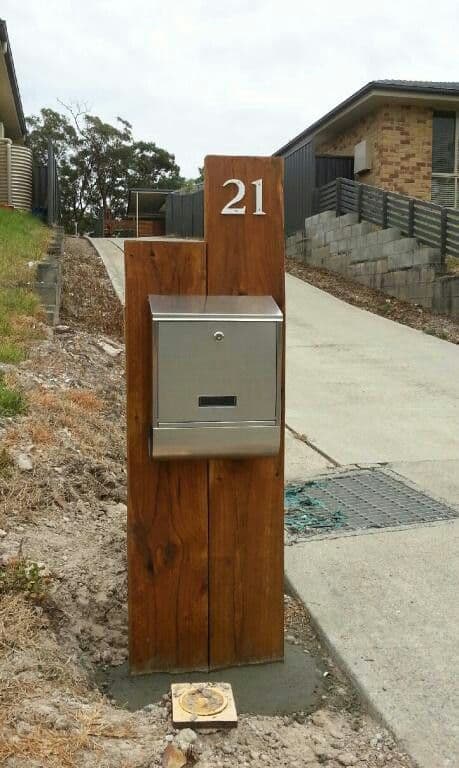 Simplicity goes a long way in creating a unique mailbox design. Once again, the inclusion of house numbers helps push this mailbox post idea over the top.
Tri-post mailbox design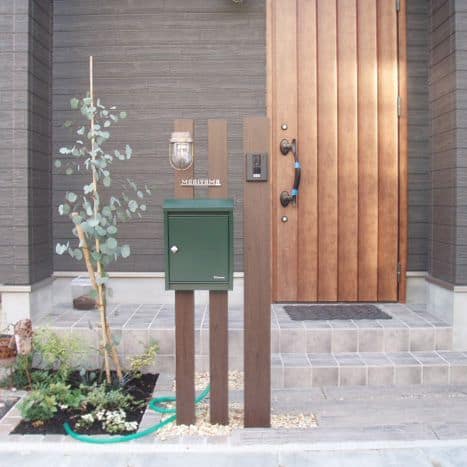 Another clean and unique mailbox post idea. You can find mailboxes just like this and you might as well grab the exterior light while your at it.
The mailbox slot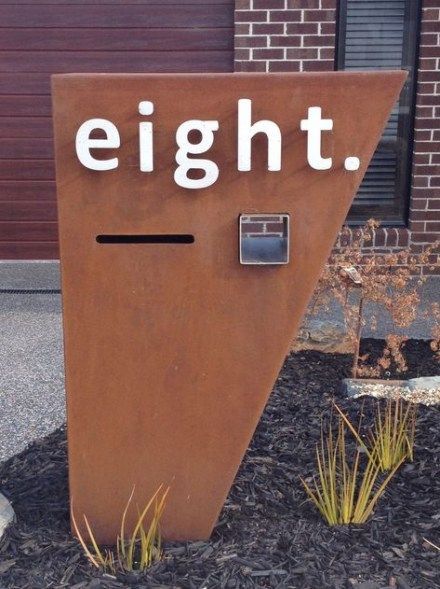 This DIY option is for those well versed in metal work. Very unique mailbox design once the rusting starts to show.
The upside down U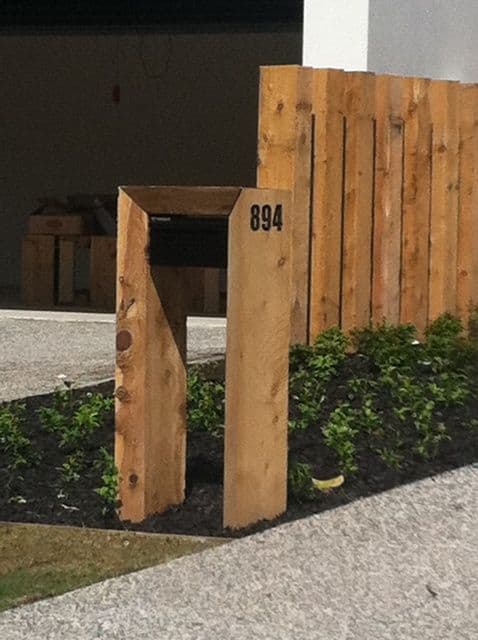 Chunky timbers, mitered corners, and a sleek black mailbox tucked neatly inside.
Wooden Mail drop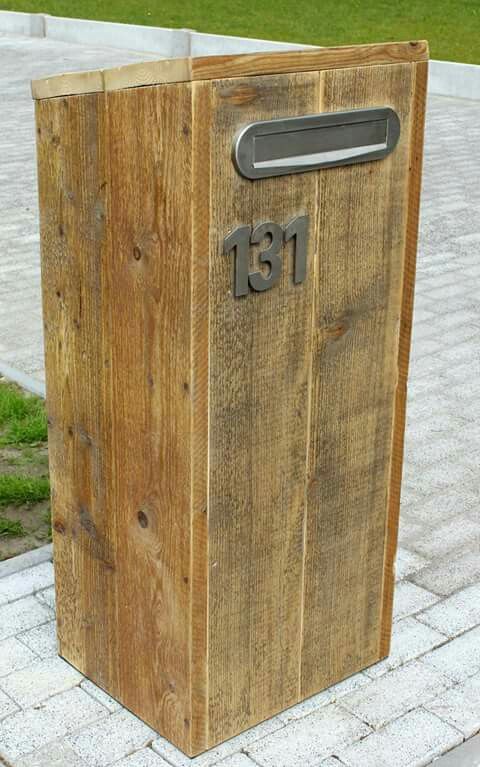 No so much a mailbox post idea, but still a unique mailbox design that not only looks great but would be quite easy to build.
A notched mailbox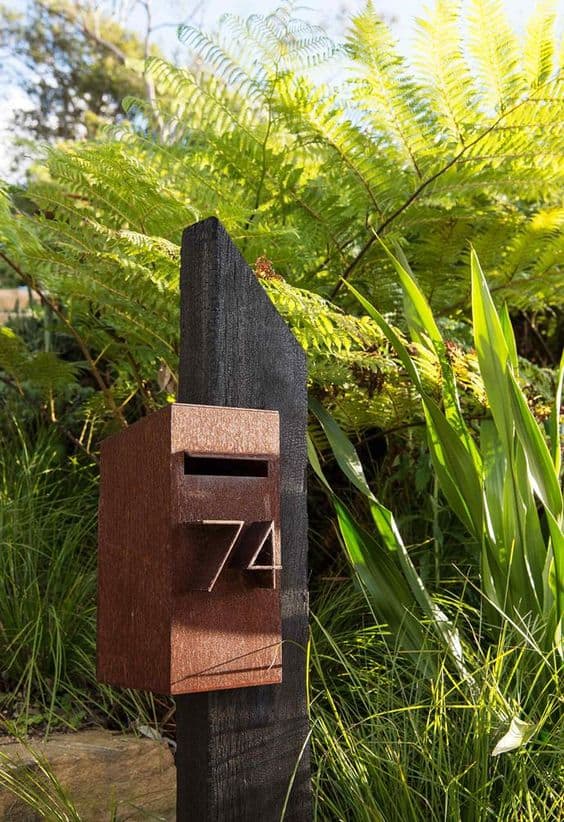 The combination of wood and steel makes this a unique mailbox post idea that would be well suited for any modern home.
Stone pillar mailbox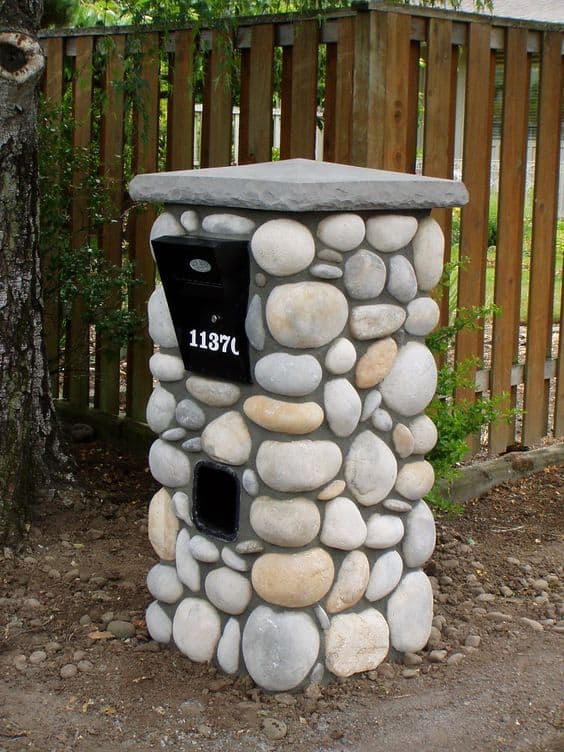 A cultured stone pillar with locking mailbox. Matched with a second pillar on the other side of a driveway would make quite an entrance.
The wooden box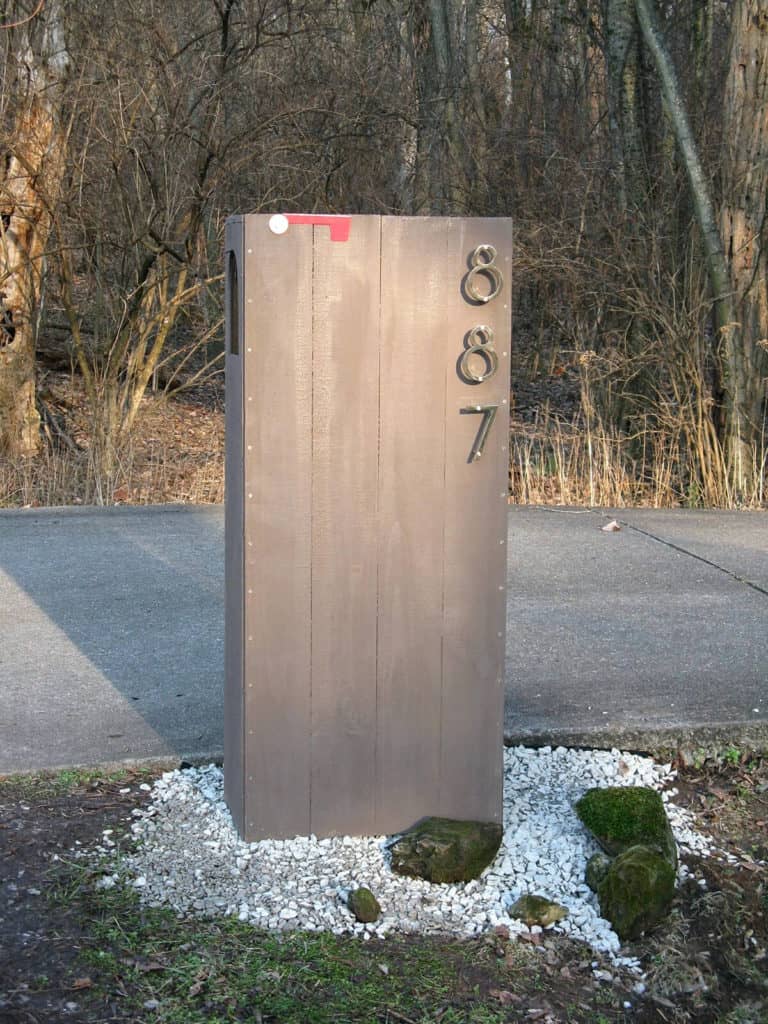 A well hidden mailbox design. The landscaping around could use some help to aid in the overall look.
That brings us to the end. I'll keep updating this list as I come across more unique options. Make your letter carrier smile and give your mailbox a face lift. It may seem small, but you will be surprised the effect it can have on a property.
Other DIY posts you may also enjoy:
Guide to small yard landscaping
How to choose between a deck or patio