UPDATE: AS OF 2020/2021 IKEA APPLIANCES ARE NOW UNBRANDED FRIGIDAIRE (ELECTROLUX).
I will continue to dig into this change and see if I can find any updated reviews in terms of reliability, function, and overall satisfaction with the new appliance lineup. As I mention below, I have not used IKEA appliances in any past renovation. This change to Frigidaire won't affect this decision.
Should I buy IKEA kitchen appliances? This is easily one of the most common questions I am asked. The answer isn't always a simple one. Let's start out with a few facts about IKEA appliances.
IKEA kitchen appliances
IKEA's kitchen appliances are actually Whirlpool, but you are unlikely to find this information without some serious research. With some digging, this PDF is all you are likely to find.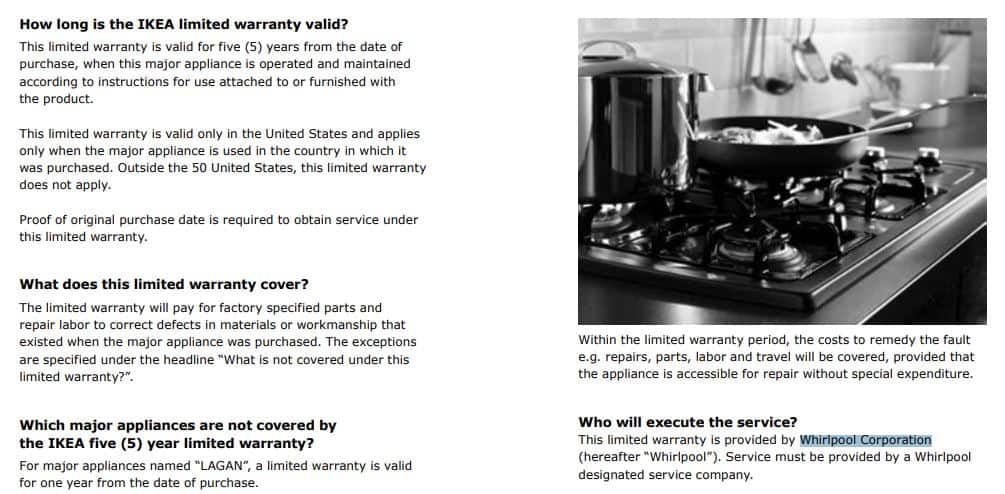 Reviews about their appliances are even harder to dig up. An old discussion on Houzz provides some info, and I can't help much more because I have never used them personally and know of only a handful of people who have (this also says something). What I can say is that any comment discussing IKEA appliances on our complete kitchen review does not look upon them favorably.
IKEA DOES sell a counter-depth refrigerator (in North America). This was a major hole in the IKEA kitchen appliances lineup. A counter-depth refrigerator typically tops out around 28-30″ deep, meaning only the doors and handle stick past the countertop. On the other hand, a standard refrigerator can top 38″ deep. That extra 8″ can become a real problem in a kitchens workflow and layout.
Don't get sucked into the extra discounts associated with purchasing IKEA's appliances. There are typically several tiers to the IKEA kitchen sale, with the largest savings associated with purchasing appliances. If I am not the first, let me be another voice of reason to tell you that saving a few hundred dollars with IKEA kitchen appliances is not worth it in the long run. You are going to enjoy your new kitchen for years and years, don't skimp out where it counts the most.
Finally, IKEA kitchen appliances are not always the cheapest option. In my experience similar models and specs can often be found at appliance warehouses or the big box reno stores (Home Depot or Lowes) for lower prices. My reasoning has nothing to do with warranty or reliability- it is purely based on reason. Why limit yourself to one single line of IKEA kitchen appliances, when you could choose any appliance you want.
Choosing the proper kitchen appliances
Well the good news is pretty much any appliance, built-in or standalone, can be incorporated into an IKEA kitchen design. This opens up a myriad of possibilities outside of IKEAs showroom.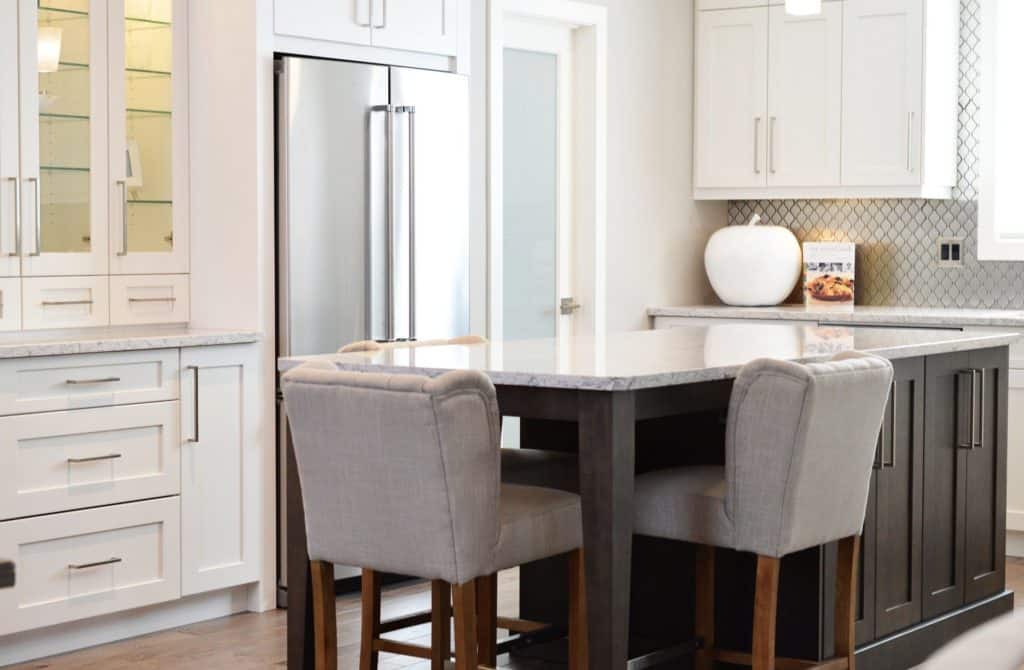 The Refrigerator
Not only is the location of the refrigerator important, so is the size. This becomes even more essential when using a counter-depth refrigerator.
The downside to a counter-depth fridge is storage- more specifically, cubic feet. To overcome this dilemma, I typically try and include the widest standard fridge possible. The slight loss of depth is more than easily overcome with a 36″ wide fridge.
However, wide or oversize fridges are not always feasible. Older homes, basement kitchens, cottages, may all require a smaller fridge. With non-IKEA appliances, there is the option to use 30″ or 33″ counter-depth refrigerators. Something not currently available through IKEA.
Quick tip:
Now what about standard non-counter depth refrigerators? Can you make a standard fridge look counter-depth? This is possible by creating a recess or cavity in the framing behind the fridge. This will allow the rear of the fridge to tuck into the wall, keeping the front even with the cabinetry.
Which appliance is best for your cooking?
Full range? Stovetop and wall oven? Double wall ovens? These are all questions that need to be answered early in the design process. The best part, almost any kitchen appliance can be integrated into IKEA cabinetry.
A full range is easy. Simply leave enough space between your cabinetry to slide it in place. The same goes for dishwashers. The greater challenge often comes with built-in appliances.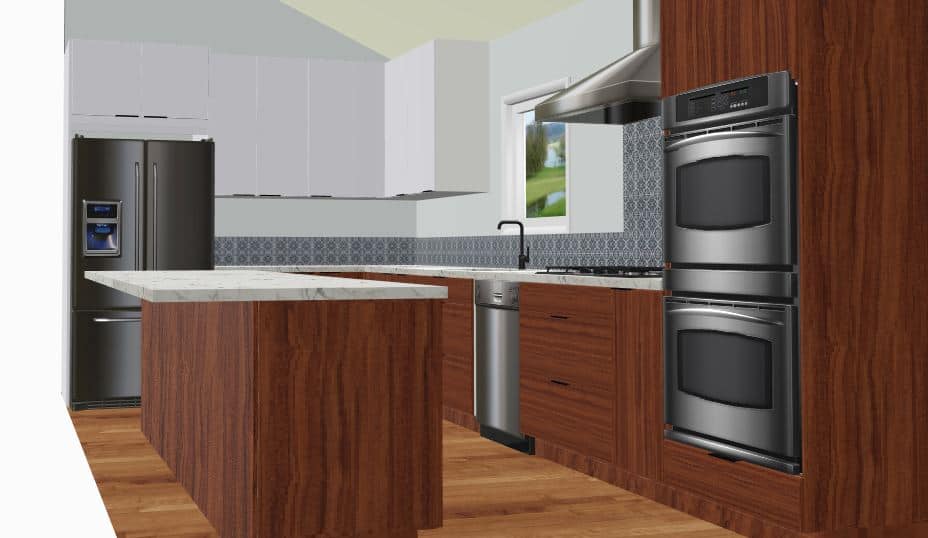 We recently went through a client design where they wished to include a double wall oven into the new kitchen design. Although IKEA does not manufacture a tall cabinet specifically designed for a double wall oven, it is still possible to retrofit IKEAs tall oven/microwave cabinet to fit. The key to making it work is knowing the size of your ovens. Overall this can be tricky and often requires some filler panels to complete the design. If this is more than you are willing to tackle, reach out to us at Homestud Studios and we will design the kitchen of your dreams.
The same principle can be applied to stovetops and microwaves. Start by determining the size of both the appliance and the required cutout space. These dimensions will allow you to determine cabinet sizes, drawer front sizes, and door sizing to give you that built-in look.
Don't overlook ventilation
This is an often overlooked part of kitchen design. First lets get something out of the way. Vented and ventless hoods are NOT the same thing. Do not let any salesperson convince you otherwise.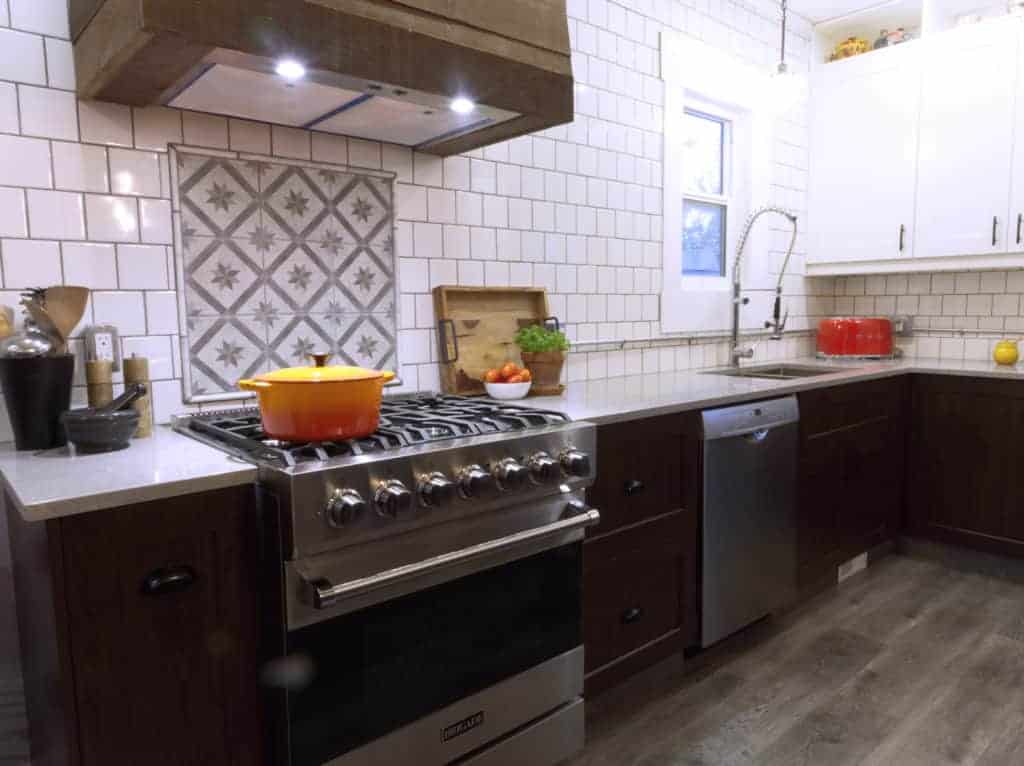 Vented vs. ventless range hoods
Vented range hoods have an actual duct venting the air outdoors. If you consider yourself a serious chef, or just love to stir-fry or deep-fry, there is no substitute for vented range hoods.
Ventless range hoods re-circulate the hot air back into the kitchen through a charcoal filter. These ventless hoods will remove some of the odor, but are not going to remove all of the smoky air created by frying. For clarification, over the range microwaves fall into this category.
CFM matters, especially if you are cooking with a gas range. As much as we all love gas cooktops/ranges, they are not the most efficient. That extra emission and any unburnt gas needs to be pulled out through a good range vent, not recirculated back into the kitchen. For a gas cooktop, the target is 100 CFM for every 10,000 BTUs. For electric cooktops, multiply the width by 10- therefore a 30″ range should have a vent that pulls at least 300 CFM.
Are you thinking about a kitchen renovation? Maybe you already got started but aren't sure it is the best use of space. Let us at Homestud Studios help. We want to design a kitchen you can't wait to show off!