I've walked you through our complete kitchen renovation using IKEA kitchen cabinets from design, cabinet installation, to the finishing touches. Now it's nearly a year later and it's time to dig into a full review of IKEA kitchens. We have also added some info and tips on this topic with a new blog post all about designing and planning an IKEA kitchen.
So buckle up, hold on, or do whatever you need to do to get comfortable as I discuss all things IKEA kitchen related, including cabinets, design software, pros and cons of the IKEA kitchen system, and what I would do differently the next time.
A quick note before you get started. Be sure to read to the end of this article where I update my feelings toward IKEA kitchen cabinets, and give you a run down of how their cabinetry has held up over the past couple years.
Why an IKEA kitchen?
The decision to get an IKEA kitchen came down to the major factors: price, design, and flexibility.
Price: IKEA has created a monopoly when it comes to economy of scale for home furnishings. I don't love everything IKEA creates or designs; however, their size gives IKEA amazing pricing power to create some great products at unbelievable prices. It just so happens that one of these great products is their complete line of SEKTION cabinets.
Design: There are other mass-produced cabinetry systems out there available at places such as Home Depot or Lowes, but they just don't hold a candle to IKEA cabinets. IKEA cabinets are completely modular and with some creative thinking it is astonishing how adaptable they really are when it comes to design.
Flexibility: As I mentioned above, IKEA cabinets can be installed in many different ways, giving you an incredible level of flexibility for an off-the-shelf cabinet system. This also means that should you get tired of your cabinet doors in 10 years, or one of your drawer fronts gets ruined, it is easy to switch them out for new ones.
The key to these factors is you don't need to sacrifice on one to get the others. You get flexible designs at fantastic prices.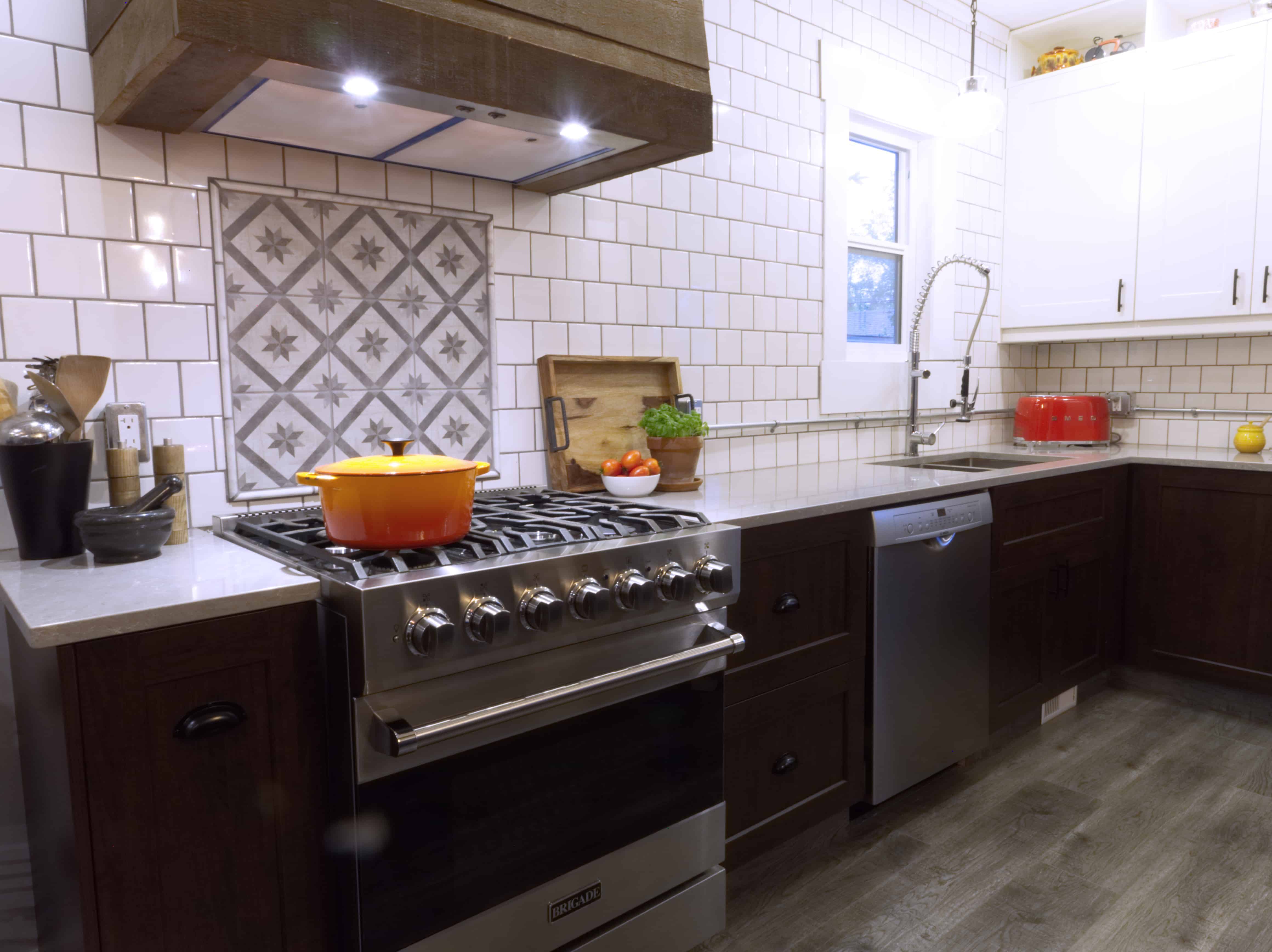 How is the quality of IKEA kitchen cabinets?
The first thing I hear when I talk to people about IKEA kitchens and IKEA kitchen cabinets is, "But it isn't real wood!". They are suspicious of MDF (medium density fiberboard) cabinets.
Almost every off-the-shelf cabinet system I looked into for our project was made with particle board or MDF cabinet boxes. The next step up from this is cabinet grade plywood (sometimes with a real wood veneer), but there is a significant debate over whether this is actually superior. Plus, when I had our project quoted with this type of cabinetry, our price nearly doubled.
Yes, you could go all the way to custom-made, solid wood cabinet boxes and doors. However, for most people (including us) this just wasn't a feasible option. Yes, you can save some money on custom cabinets by using local builders or smaller companies, but it is still far more expensive than IKEA kitchen cabinets. When I had our project quoted using a local custom cabinet builder, the price came in over $15,000, and that didn't include installation.
So what is the quality of IKEA cabinets really like?
Simply put, they are incredibly durable. The kitchen at the Beige Bungalow has now gone through over a year of dinner parties, grandchildren playing, and multiple dog wrestling matches without so much as a scratch. I firmly believe kitchens are the heart of the home and a room that is meant to be used..and sometimes used hard.
If that doesn't convince you of their durability, the complete wet bar area in my own basement is built from IKEA cabinets. It was one of the first renovations at our home and has seen numerous parties, football games (literally), and too many games of mini sticks hockey to count, yet still not a scratch, ding, dent, or mark to be seen.
IKEA uses high-quality hardware
In general, kitchen drawers take the largest amount of abuse in our homes. If anything is going to need to withstand slams, warping, or swelling, it's drawers. Well, IKEA uses solid metal superb hardware manufactured by Blum AND drawer dampers that allow for soft-closing (a feature that will cost you a bundle in custom cabinets).
IKEA uses a variety of materials
IKEA kitchen cabinets are built with a variety of materials. In short, MDF and particle board are affordable materials that maintain durability and strength.
You may be thinking… "What if it get's wet?!"
Anything subject to long periods of moisture will get damaged- wood, MDF, or particle board. The difference is MDF will eventually dissolve, particle board will swell and fall apart, and real wood will mold. Plus if this happens, I can guarantee it will be far easier to swap out your IKEA door vs. a custom cabinet door.
What are IKEA cabinets made of?
IKEA cabinet box
The main body of IKEA cabinets, called the cabinet box, are all made with 2 materials:
Particle board for the core
Laminated veneer for the outer surface
Yes, particle board is a cheaper material. But like anything else, when we compare available options, one must compare like with like. Compared to other off-the-shelf kitchen cabinet systems, IKEA's kitchen cabinet system is hands down the better buy.
If you prefer the feel and look of solid wood, then you will not be happy with any off-the-shelf kitchen cabinet system. In addition, if don't mind the extra cost associated with real wood, by all means go that route.
I will leave this section with one final comment. Be weary of 'custom cabinet' manufacturers. Many still use laminated particle board for the cabinet boxes themselves in order to keep the product price more affordable. I have been in dozens of high end, custom built homes with expensive kitchens, and their cabinets are constructed from laminated particle board. This is not to argue particle board is better, it is simply to state that just because it isn't solid wood, doesn't mean it isn't a quality product.
IKEA cabinet door and drawer fronts
IKEA cabinet door and drawer fronts are purchased separately from the cabinet boxes (another perk to the flexibility of the system). They are divided into four classes:
Real wood + MDF. As of now, only 4 lines of IKEA cabinet doors contain real wood: EKESTAT, FILIPSTAD, LAXARBY, and BJORKET. Typically they are solid wood for the frames with a wood veneer on particle board for the panel itself.
MDF + foil finish. The majority of IKEA cabinet doors fall into this category- GRIMSLOV, MARSTA, TINGSYRD, HAGGEBY, BROKHLT, JARSTA, and EDSERUM. These typically consist of an MDF base with a thermofoil finish.
MDF + paint. VEDDINGE, FLADIE, BODBYN, AND HITTARP make up this category. These are bright cabinets with a glossy paint applied directly to a fiberboard center.
Glass or metal. On occasion, these contain some particle board; however, the majority of their appearance is glass or metal. This includes GREVSTA and JUTIS lines.
IKEA kitchen design
I discussed IKEA kitchen design in Chapter 1 of our Beige Bungalow build, and I also reviewed the in-home IKEA kitchen planning service here, and here. But I would like to try to tie that all together in this article, including a discussion about IKEA's design software.
IKEA kitchen planning service
IKEA offers an in-home kitchen planning service which can be purchased directly in store. You should be aware that the in-home planner is not an IKEA employee, but an employee of the local company with the contract for IKEA kitchen installs. In my area, it costs $250 for this service.
If you are a fairly good DIYer with a decent understanding of renovations then you can probably skip this service. Originally, when I tried it out (for curiosity sake) I was more than pleased with the service we received. However, when it came to install, I started to realize the massive shortcomings our in-home planner really had. If you are interested in this service, be sure to head over and read our full review of the IKEA kitchen planning service.
IKEA kitchen design software
Ready for a serious case of Stockholm syndrome? IKEA has a software that lets you design your kitchen from the comfort of your own home. It is an online software used right in your web browser, which makes it a little buggy… Fear not though, a little patience goes a long way.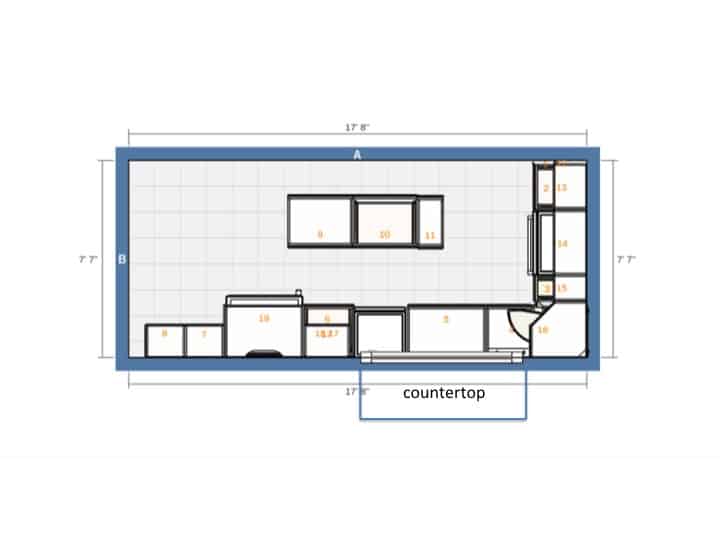 The IKEA kitchen planning software starts out by having you draw your room/space with the correct proportions. This is one perk I really love about the software, as it allows you to design your space to scale. The software allows you to add and delete cabinets, change door fronts, add countertops, change door hardware, add lighting, and even add appliances. Then when you are ready, flip on the 3D mode to watch your design come to life. This all sounds great, but it is also headache inducing. Something as simple as moving objects around the room can cause crashes, so save often. Even walls have a tendency to move at their own will.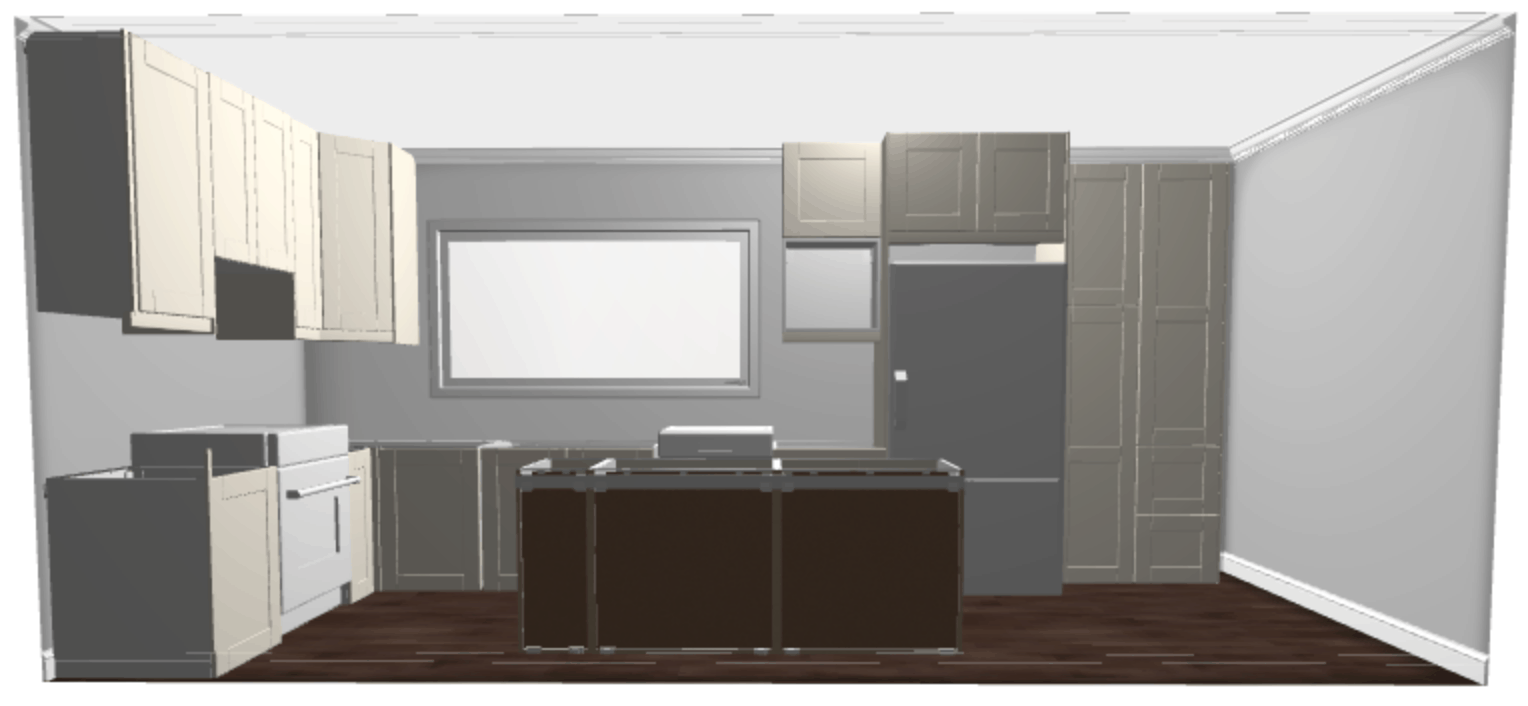 In the end, the software provides you with a buying list for everything you need to build your kitchen in real life.
IKEA's kitchen software results in a love-hate relationship. It will let you visualize your kitchen before you purchase anything and give you a purchase list which helps with budgeting. Buuuut…it will also leave you wanting to pull your hair out as your go through the process.
See for yourself: IKEA's home planners
______________________________________________________________________________
Let Homestud Studios help you get the kitchen of your dreams!
______________________________________________________________________________
Buying your IKEA kitchen
First off, wait for IKEA to have their kitchen sale. Usually this happens four times throughout the year, so plan your renovation accordingly. IKEA's kitchen sale usually works along the premise of the more you spend, the more you save, starting at around 10% off. The catch is the 10% off is most often in the form of IKEA gift cards.
When we ordered our kitchen for the Beige Bungalow, the sale was as follows:
10% back in IKEA gift cards for every $1,000 spent
15% back in IKEA gift cards for every $1,000 spent with the purchase of 1 appliance
20% back in IKEA gift cards for every $1,000 spent with the purchase of 2 or more appliances
IKEA kitchen appliances
At this point, you may be wondering about IKEA's kitchen appliances. To be honest, I have never used or even considered purchasing my appliances from there. This isn't to say they are poor, it's just not something I have ever looked into. If you are interested in a complete review of IKEA's kitchen appliances, check out this Consumer reports review on IKEA appliances.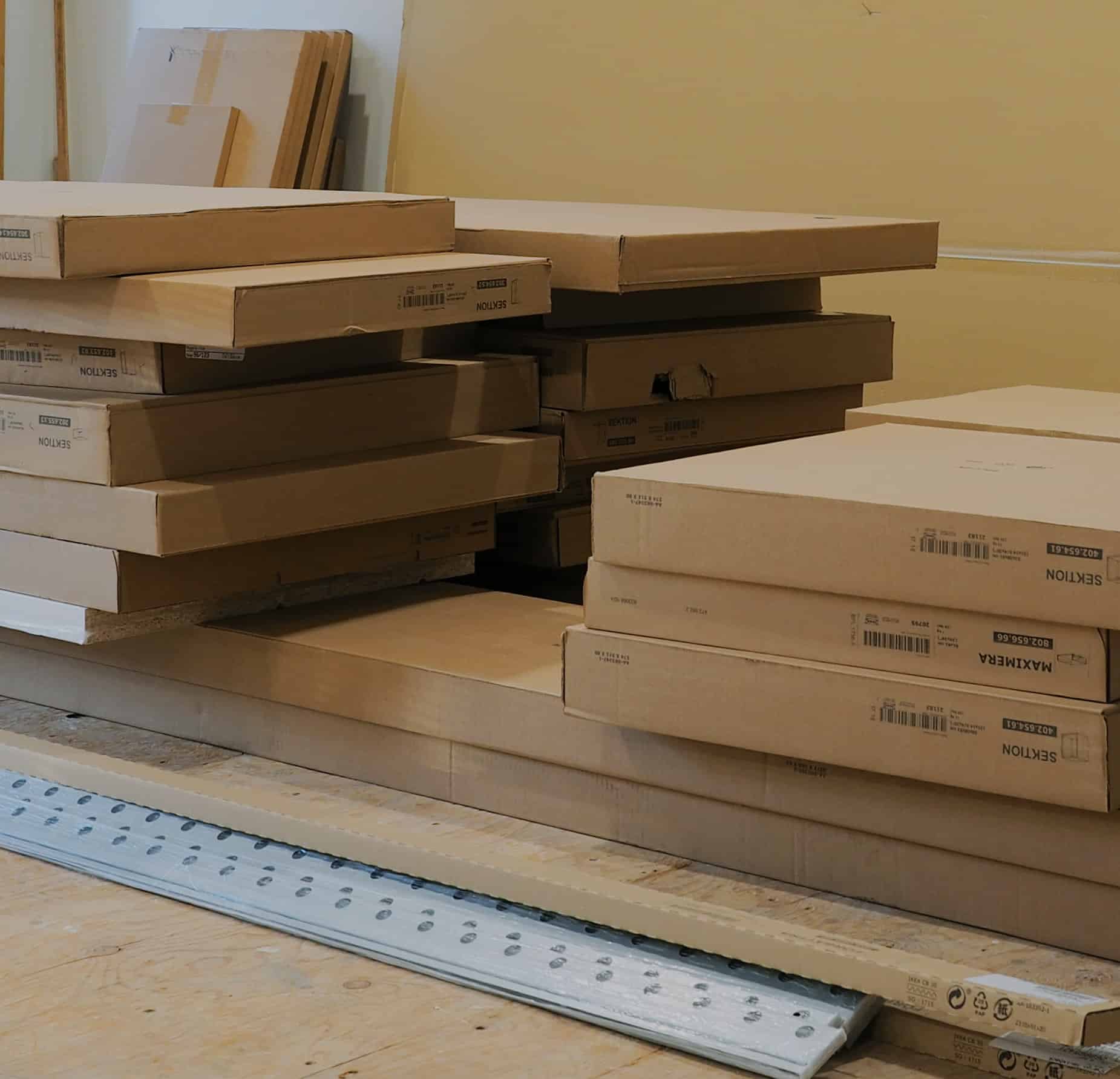 In store ordering
Prepare for a long line at IKEA. Although, if you can swing going in the morning on a Tuesday, Wednesday, or Thursday, it's not bad. Regardless, the ordering process will take some time. You bring in your IKEA kitchen plan, log into their computers, and show it to one of their employees. THEN, an employee will comb your entire order piece by piece. This is one of the downsides to the flexibility and modular aspect of the IKEA kitchen- you are ordering hundreds of little boxes and bags.
Check everything once it is delivered, or in store if you are picking it up yourself. This is crucial and may take some time. The employees who put together your order are only human, and mistakes can be made. Save yourself a trip back to IKEA if possible and catch any mistakes the first time.
Do you want to get the benefits of the IKEA kitchen sale nearly year round? Then be sure to read our top 5 secrets to the IKEA kitchen event.
IKEA kitchen cabinet installation
The average DIYer or handy person should not be intimidated by the thought of installing IKEA kitchen cabinets. In fact, the basic process of installation is really quite easy. However, if you are not one of these people and are looking for an installer, fear not. Just like IKEA's in home kitchen planning service, installation can also be hired out. If you go through IKEA's contractors, expect to pay anywhere between $89-129.00 per cabinet!
Building the cabinet boxes is straight forward as long as you follow the instructions. The hardest part is continuing to pay attention once you are on your 5th…10th or 20th cabinet. Most people will opt to purchase the adjustable cabinet feet with their IKEA kitchen. And really, if you are not comfortable using standard power tools, I would recommend you go this route as well. However, if you consider yourself an avid DIYer, I suggest building your own cabinet kicks. If you are not interested in building your own cabinet kicks, go ahead and skip the next section.
How to build your own cabinet kicks:
I'm sure there are multiple ways to go about this, but here is my preferred method. Start by determining the height of your FINISHED kitchen counters. The average kitchen counter height is 36″ off of finished floors. On average stone and laminate countertops are between 1-1.5″ thick. IKEA kitchen cabinets are 30″ tall. So let's do the math assuming you are using a stone countertop that is 1.5″ thick.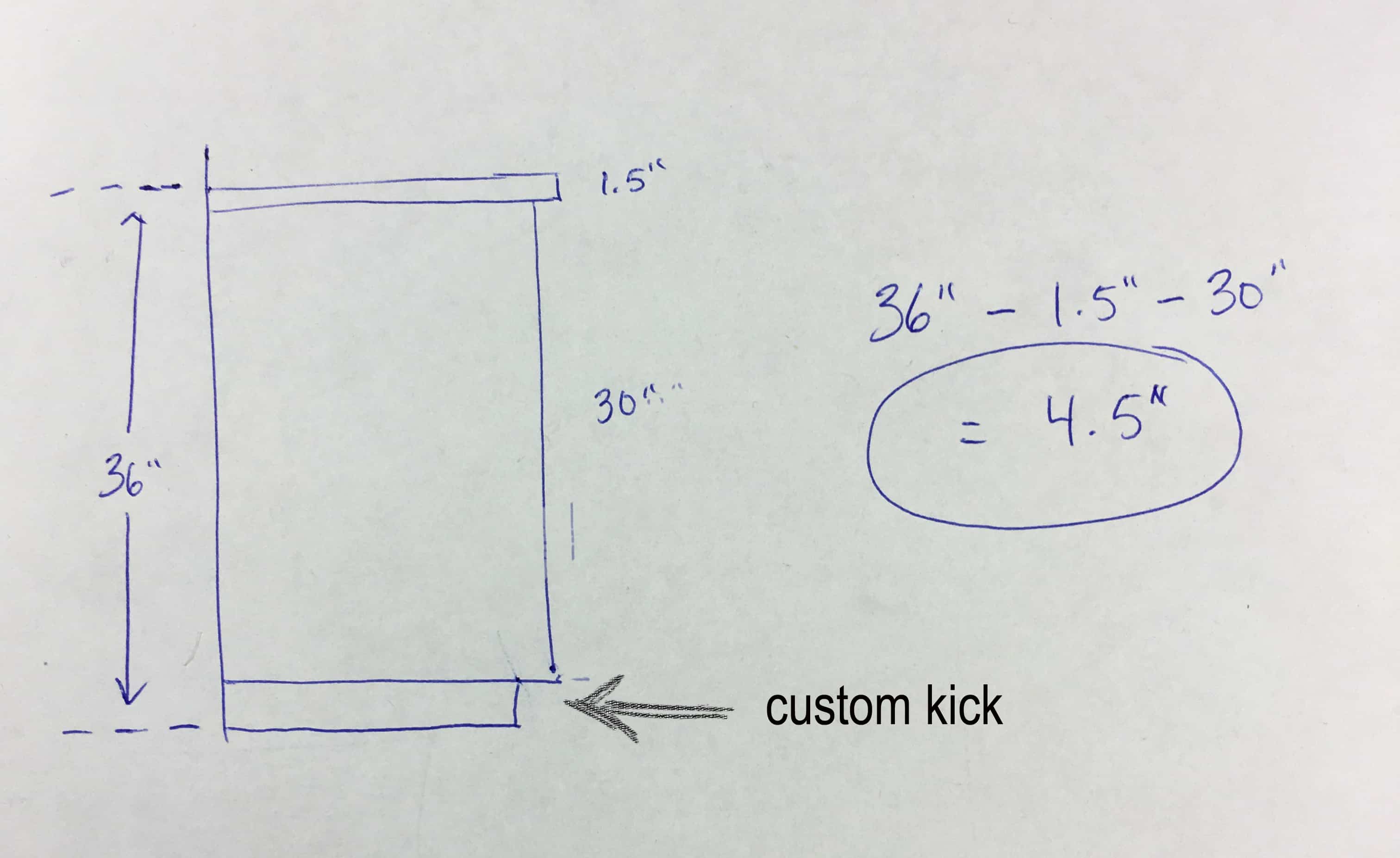 Cut your kicks to the appropriate height. In our example above, we need to create a kick at 4.5″ tall. My preferred method is to rip down 2×6″ lumber to 4.5″ using a table saw. I then build kick boxes the exact dimension of each set of cabinets. So if you have 3 cabinets in a row, I build one kick that all 3 cabinets can sit on. I find this to be the best for leveling your kitchen cabinets (the floors in most homes I work in aren't exactly level).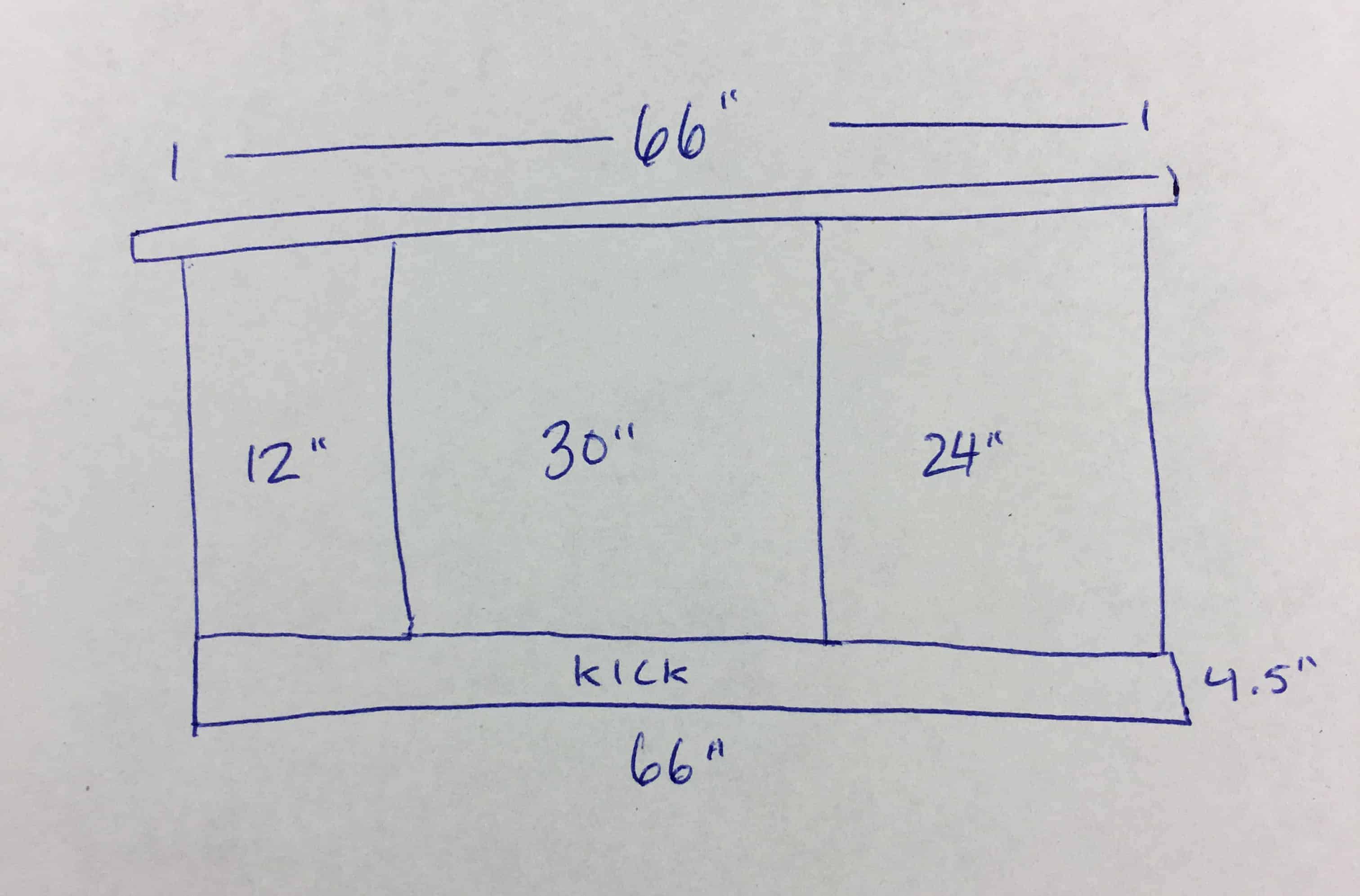 Once you have built all of the kicks for your kitchen, level them perfectly to each other BEFORE you install your cabinets. By leveling all of your kicks, there is no need to level the cabinets during installation. I find the easiest way to make micro adjustments when leveling is by using wood shims.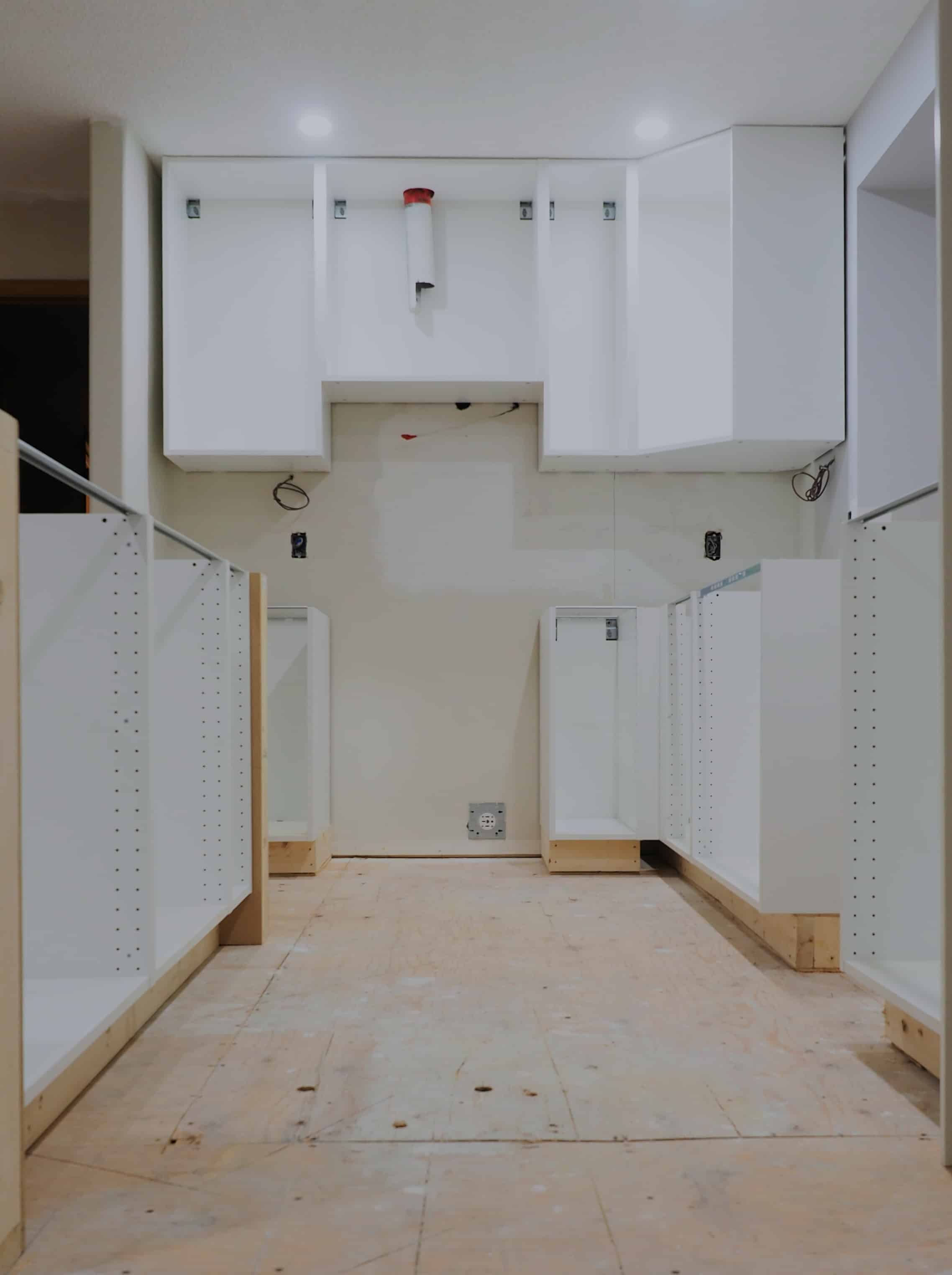 There are three main reasons I build my own kicks. First, they are vastly stronger than the cheap IKEA cabinet legs (a definite con of the IKEA kitchen system). Second, I like to finish my floors up the kicks instead of trying to match cabinetry color. And third, the cheap plastic kick plates you need to purchase look terrible (again my opinion!).
IKEA kitchen cabinet rail
This is one of the most ingenious parts of the IKEA kitchen design. There is no need to find a stud at the back of every cabinet to screw to, while simultaneously leveling your cabinets. In the IKEA design, your mount a rail directly to your wall and the desired height. Using the longest level you can fit in your space, level the rail and screw into the wall studs. This way you are guaranteed to hit several studs no matter where your IKEA cabinets start and stop. If you are wondering how to find the studs behind the drywall, pick yourself up a decent stud finder. This is the same process when installing your upper IKEA cabinets.
Once your rail is in place, go ahead and 'hang' your cabinets. The upper cabinets will truly hang, while the lower cabinets should have their entire weight supported by the floor, using on the rail system to keep them tight to the wall. If you are using IKEA cabinet legs, go ahead and adjust them snug to the floor at this point. If you built your own kicks, everything should be perfectly level and snug.
Securing your IKEA kitchen cabinets
Before I secure my cabinets to the rail, I screw my cabinets together. This adds additional strength to the system, and hides those annoying skinny cracks that show between each cabinet box. Use a regular trigger clamps (make sure it has soft rubber feet) to secure the two cabinets together, then screw them together. Make sure the screw isn't longer than the cabinet boxes you are securing together.
QUICK TIP: Do not screw into any of the pre-drilled holes in your cabinet box. Instead screw directly through the cabinet box in between the pre-drilled holes. This prevents you from accidentally placing screws where your hinges or shelves may need to go.
In each cabinet package you will find specific pieces to secure your cabinets to the rail. Once your cabinets are hung and secured together, use these pieces to secure your IKEA kitchen cabinets to the rail.
How to take your IKEA kitchen cabinets to the next level:
This is where you can start taking your overall design to the next level. Use filler pieces to hide the stark white color of the cabinet boxes, and cabinet end gables to finish of the look at the ends of your cabinetry. This is particularly important if you are using wood colored door fronts.
Deco strips
If you are planning on installing under cabinet lighting, be sure your order includes deco strips. These are installed under the cabinets. In fact, I include this on every IKEA kitchen I install, as it gives a custom finished look.
End gables
QUICK TIP: If you want to run your cabinet end gables to the floor, buy the right size. IKEA's standard lower end gables are 30″ tall, and are not tall enough to extend right to the floor. However, IKEA sells a 36″ cabinet end gable which can be cut to give that custom finished look. This goes for the pantry cabinet end gables as well. Their standard end panels are 90″ tall (the same as their tall pantry cabinet). An easy work around is to use fridge gables (which are 96″ tall) and cut them to the desired depth.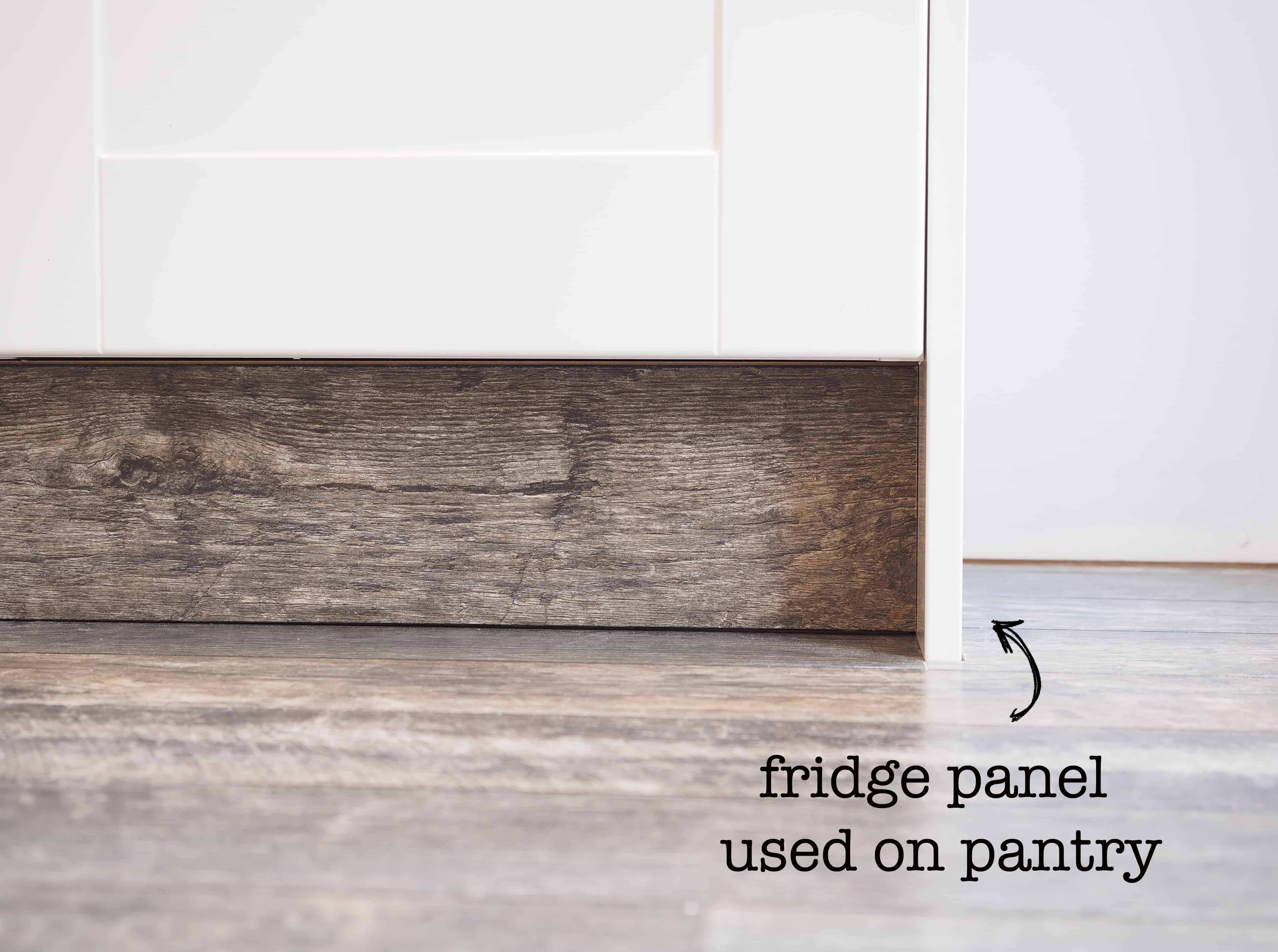 Another method to distinguish your IKEA kitchen from the crowd is to add non-IKEA elements. At the Beige Bungalow, we added a custom built-in island with cabinetry. Or consider a less permanent option with a butcher block kitchen island. At Hilltop, we also included a custom wood bookshelf for cookbooks (or anything else you want to display), as well as some floating shelves. Take a look at our guide for designing and laying out your new IKEA kitchen for even more ideas.
Countertop selection
QUICK TIP: If you are planning on any type of stone countertop, I highly suggest adding the FIXA brackets to your IKEA kitchen order. IKEA's new kitchen cabinet design sits the top rails 1/8″ higher than the cabinet sides. This means the vast majority of the countertop weight is resting on a few places instead of the entire side of the cabinet box. The IKEA FIXA brackets add 1/8″, which allows the stone countertop load to be carried entirely by the cabinet boxes.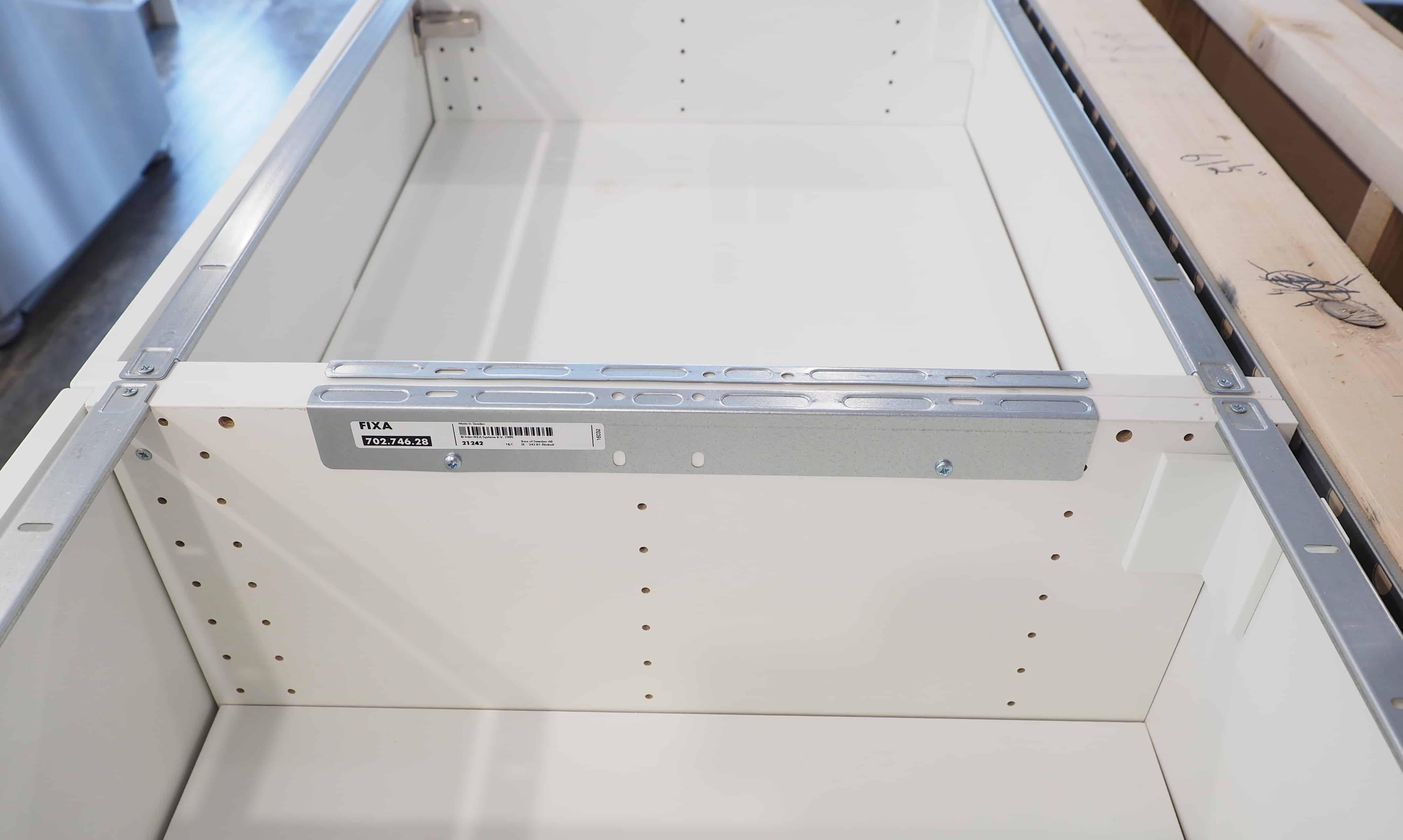 IKEA kitchen organization
Have you ever went out looking for a cutlery organizer only to find they are too small or too large for your drawer? Well never again with IKEA's kitchen organization. This allows for endless creativity and customization of your IKEA kitchen. It maximizes interior drawer space (no more loose cutlery organizers) which is one-of-a-kind when it comes to off-the-shelf modular cabinet systems.
Cabinet organizational systems can skyrocket a bill with most companies, but IKEA offers lots of incredible storage solutions. Be careful though, this part of the design can still add some serious dollars to the overall bill.
QUICK TIP: It is better to sacrifice some space for organization. An organized kitchen is much easier and less stressful than one lacking any organization.
Pro's and Con's of the IKEA kitchen
I think at this point it is fairly obvious that I am quite fond of the IKEA kitchen setup. So before I get into the con's, lets recap the pro's:
Affordable/cost-effective
Great build quality
Decent design choices
Incredible flexibility with design (especially for the price point)
Built-in design software (can also be a con at times…)
Relatively simple installation
Can be as simple or as custom as you would like
Organizational solutions built for the IKEA kitchen
Cons of the IKEA kitchen system:
The design software can be a large headache at times. A little patience goes a long way.
Ordering can take a good chunk of time (well worth the potential wait)
The cabinet legs. I really can't stress how little a fan I am of the IKEA cabinet legs.
IKEA staff. Unfortunately, not every member of the kitchen department is as knowledgeable as the next. If you feel your questions are not being answered, do not hesitate to ask politely for some more help from another staff member.
IKEA's under cabinet lighting. If you want under cabinet lighting in your design, do yourself a favor and source it elsewhere. I am a fan of RAB under cabinet lighting. As always, please be sure to have your electrical completed by a qualified electrician.
Lack of proper microwave cabinet. There are workarounds to this problem, but the IKEA kitchen system lacks a proper microwave cabinet. They are only present in their full cabinet units.
Why shouldn't you buy an IKEA kitchen:
If for some reason your budget is limitless, then I would opt for solid wood custom cabinets.
You are not comfortable measuring, assembling, and installing IKEA cabinets (unless you hire out the task). Although IKEA does have easy to follow instructions, there is still some building knowledge required to complete the install. This is even more true if you are customizing any aspect of your kitchen design, such as replacing filler panels with a hidden IKEA cabinet.
The final verdict
I recommend IKEA kitchen cabinets to absolutely everyone. Like anything else there are always exceptions, but for the vast majority of people/renovations, they are perfect. The IKEA kitchen system is durable, stylish, and highly functional. I have never had any issues with sagging or warping, drawers not closing, or hinges breaking. As I move onto our next home remodel project, designing the next IKEA kitchen will be the first place I start.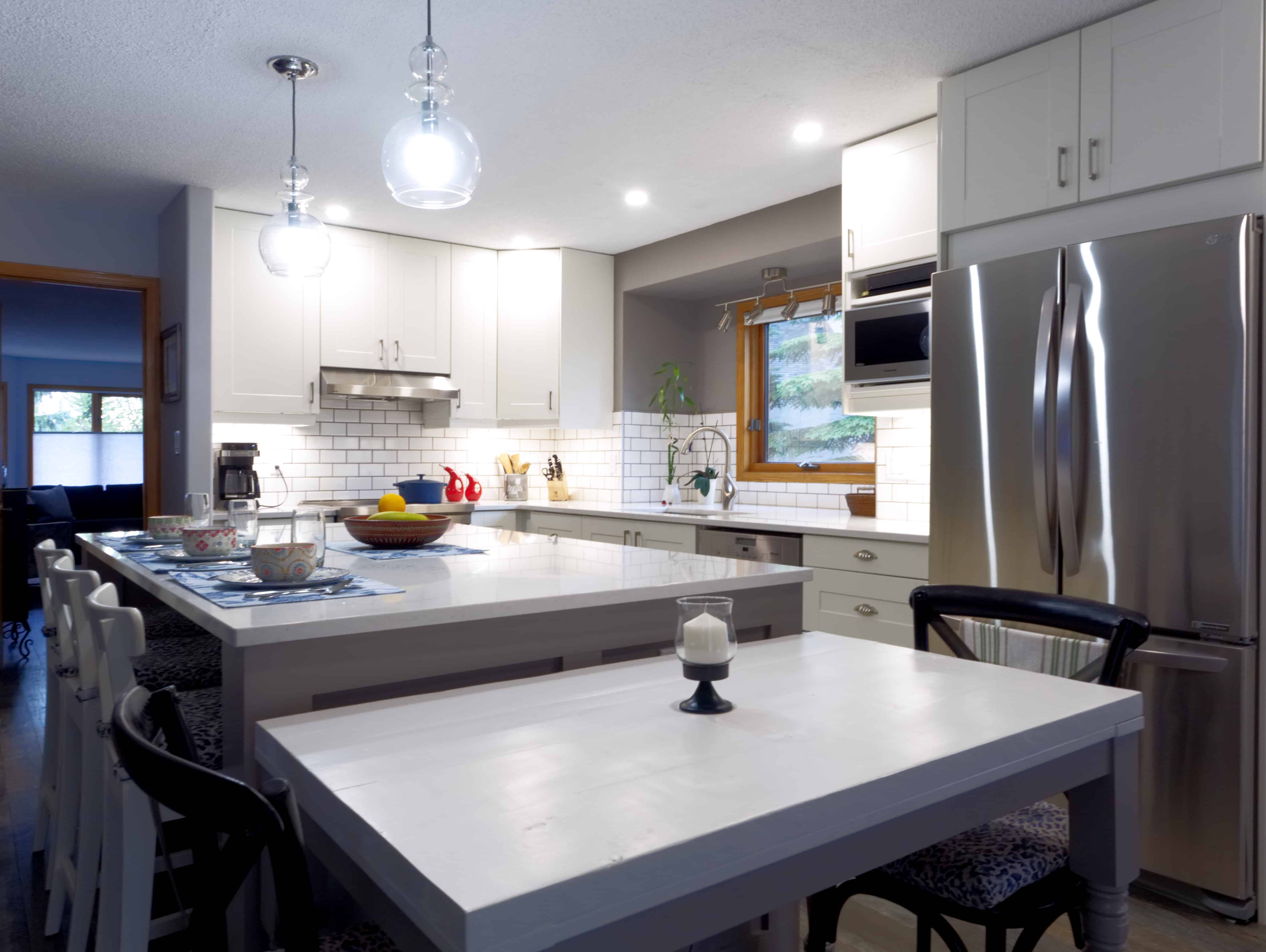 My update on IKEA kitchen cabinets
Since writing this post back in 2018, I have installed 4 more unique IKEA kitchens. In addition, I have designed countless IKEA kitchens for clients through Homestud Studios. I feel as though I have a very good handle on what these cabinets are capable of, and where they may fall short.
New designs
IKEA has added a few new designs and styles to their collection over the past few years.
AXSTAD: These doors are a modern shaker style in matte white. The center consists of Fiberboard, the front side is Plastic foil, the back side is melamine foil, and the edge is a plastic edging.
We installed these doors at our most recent home renovation project: The Partridge House.
First, these are a true white cabinet. If you want an IKEA kitchen with true white shaker cabinets, this is the best option. Overall, I was quite pleased with their work-ability. The material cut nicely without noticeable tear out at the surface, and installation was just like the rest of their catalogue. VOXTORP and BODARP share the same material makeup as AXSTAD, thus I imagine they would be much the same.
LERHYTTAN and TORHAMN: Frame is solid ash, with a particle board panel on the inside. These are both shaker style panels, with the former available in black stain, and the latter in natural ash.
ASKERSUND: IKEA does not give the breakdown by part, but instead states that these doors consist of particleboard, polypropylene, foil, and melamine foil.
Reliability / wear and tear
So how have my IKEA cabinets help up. The simple answer, incredibly well.
I have installed IKEA cabinets in both my home, as well as those of family members, and no one would hesitate to use them again. Whether it is the kids and dogs running around and smacking them, or a full on house party, the cabinets still look like the day they were installed.
Truth be told, if they had not held up well, I would be the first to tell you. However, at this point the most negative thing I have found is the EDSERUM cabinet doors can be a little tricky to clean around the shaker frame. There is a slight gap between the frame and the inner panel that can catch the odd crumb… or spilled milk. The second being the trickier one to clean.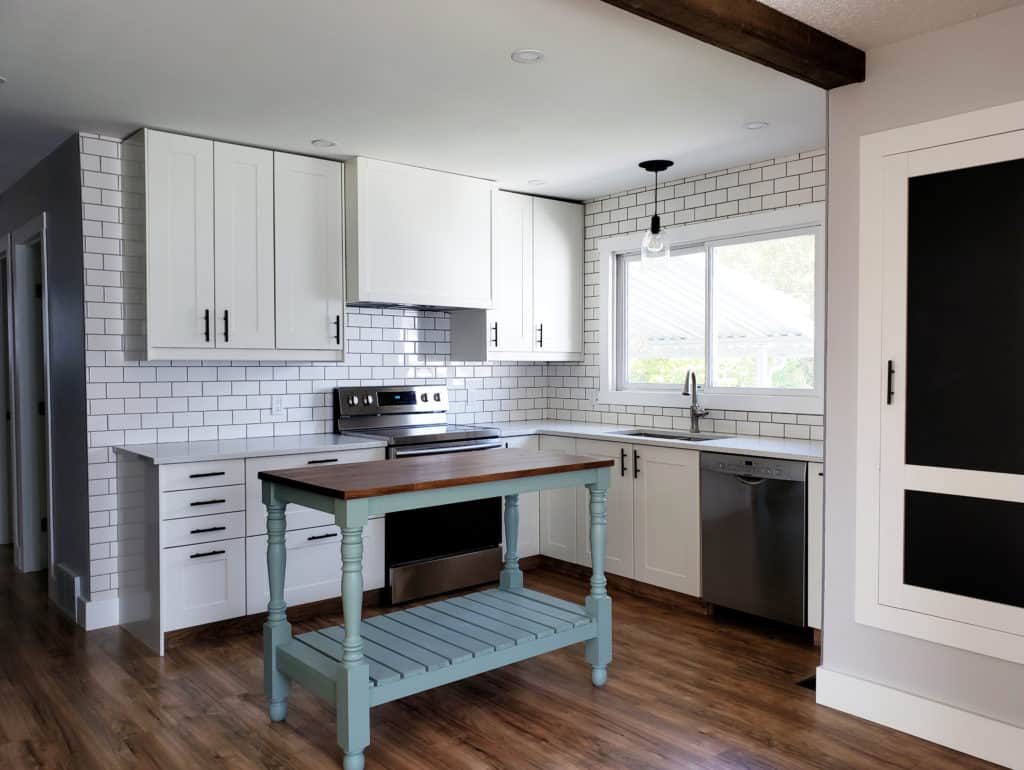 Customization
This might be what I love most about IKEA kitchen cabinets. The ability to customize the kitchen to your needs and design is nearly endless. We use these cabinets as the basis for all of our home renovations, but in the end, most people have NO CLUE they are walking through an IKEA kitchen.
Unlike some other systems, you are not penalized for using non-IKEA parts. For example, I never purchase IKEA cabinet feet or toe kicks. Instead, we always build our own cabinet kicks. This allows me to finish them in whichever manner I choose.
I encourage you to browse our readers comments below, as well as other reviews out there to get a broad perspective. But the best final statement I can make to tell you how much I trust IKEA cabinetry- I will be installing IKEA cabinets in the next rental house of ours that requires a kitchen renovation.
You might also enjoy: