A basement bar is a great addition to a newly renovated space. It's a perfect place to entertain friends and family, or kick your feet up at the end of a long day.
I knew from day 1 we were going to include a basement bar at Hilltop for two reasons; 1) there was no space to include a bar on the main floor, and 2) there was a main drain cleanout in the basement I wanted to hide while maintaining accessibility.
One of the biggest transformations at Hilltop was in the basement. When we purchased the house, the basement was a disaster with too many separating walls, a laundry room right at the bottom of the stairs, an inaccessible electrical panel, and a massive mechanical and storage room. We needed to increase the functionality, open up the space, and make it a place someone would want to spend time. Our goal was to include a basement bar, ample entertaining space, and closed in laundry, while maintaining the storage room and full basement bathroom.
Take a look back at the house tour to get an idea of what the original basement layout looked like. It can be summed up with one word: walls.
This is the layout we after the renovation was complete: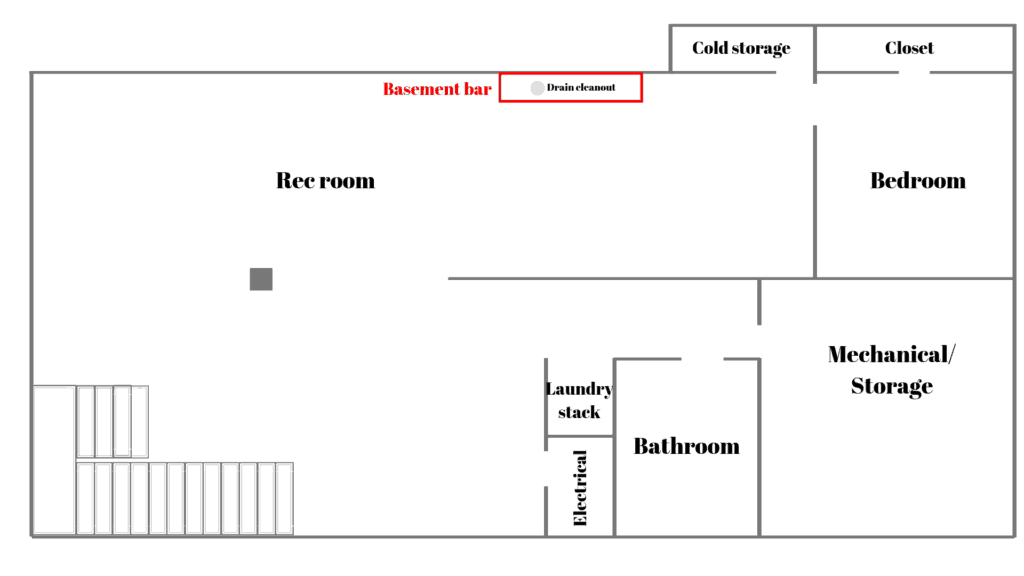 The finished basement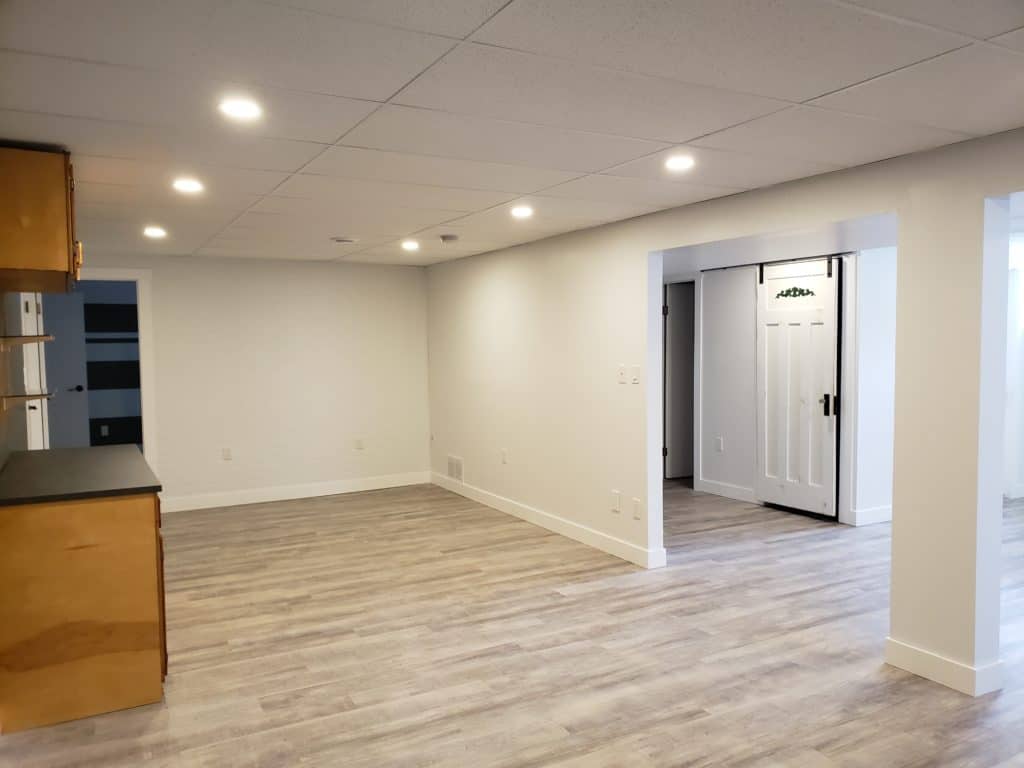 We wanted to create a space that could serve many purposes. The floor was finished with luxury vinyl plank which looks great and can take some abuse. So let those kids and pets go wild! I always put suspended ceilings in the basement in case any changes need to be carried out at a later date. This leaves easy access for wiring, plumbing, etc.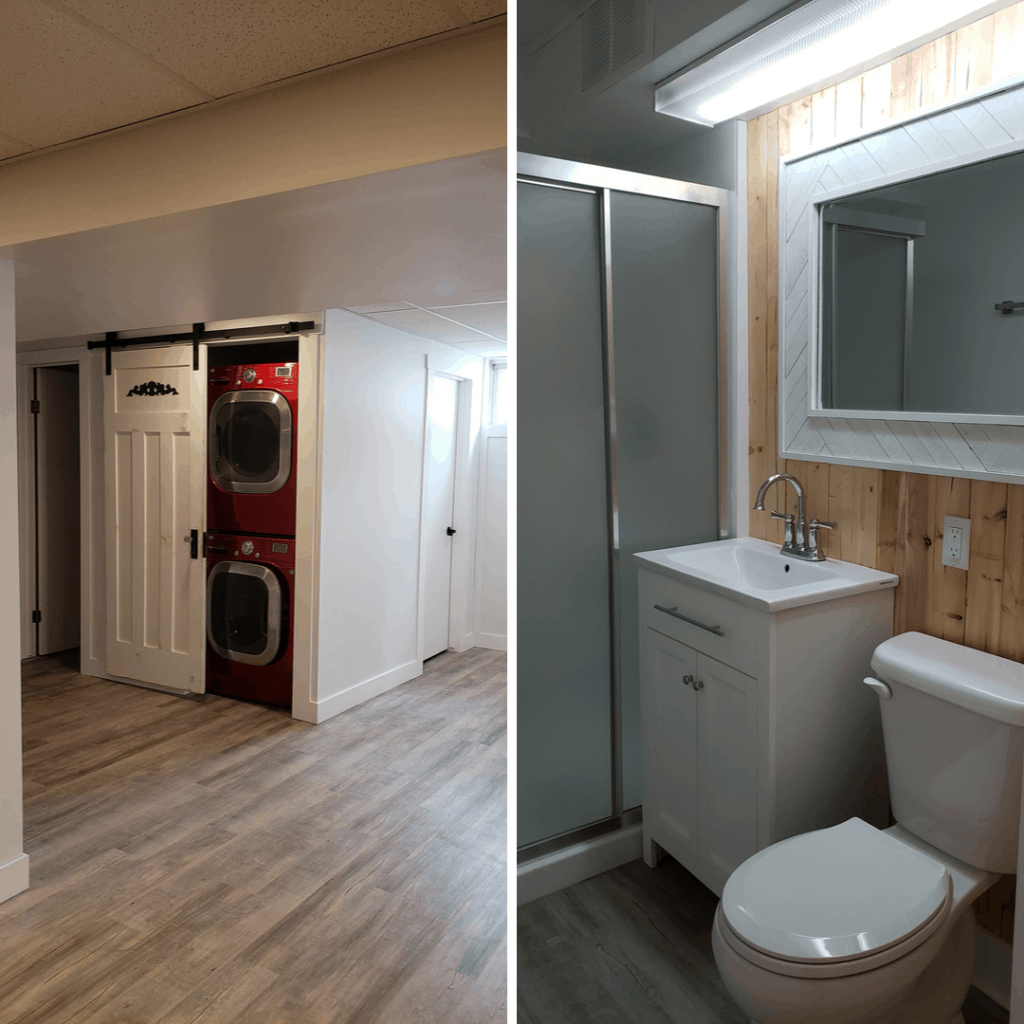 We squeezed in a set of stacked laundry hidden by a sliding door. I found this awesome door at the local Restore for $25 and paired it with barn door hardware. Tip: try and put stacked laundry units where the rear is still accessible. In this case, the water lines, drain, and dryer vent all run through the closet behind. The full bathroom received a face lift, including a new vanity, toilet, and wood feature wall.
Basement Bar
Skip going out and pour a drink from your own basement bar. A basement bar can be as extravagant or simple as you would like. I am going to stick to simpler basement bar options.
The two main basement bar options:
Wet bar
A wet bar typically includes a sink and plumbing, and can go as far as including a bar sized dishwasher. The location is more important because a wet basement bar will need plumbing.
When planning your basement layout, work with a plumber to determine potential locations and the associated costs that may be involved.
Dry bar
A dry bar includes no plumbing or sink. There are no real constraints on what can be turned into a dry bar, or bar cart.
We were on a tight budget at Hilltop, meaning I had to create a home bar for next to no cost.
Home bar ideas on a budget
Reuse and re-purpose! Skip shopping for ready made bars and cabinetry- starting from scratch could cost you thousands. Almost anything can be turned into a dry bar with a little ingenuity.
You can use an old TV, a piano, or even old pallets. It can even be as simple as taking a trip to the local thrift store and finding an old bookshelf.
At Hilltop we had beautiful birch cabinets that were removed from the old kitchen. They may not have looked perfect, but with a little bit of elbow grease they could become beautiful once again.
I started out by creating a kick for the cabinets from 2×6″ lumber. This gave me a structure to lift my base cabinets off the floor. The lower cabinet were mounted to the kicks and the wall. I created a false bottom for the far left base cabinet to leave access for main drain cleanout. Meanwhile, the upper cabinets were attached to the wall with 3″ screws directly into studs.
I created new end gables for the cabinets from 1/8″ birch plywood, and tacked them into place with wood glue and a brad nailer. I chose a stain that matched the original birch cabinets, added a laminate countertop from IKEA, and BOOM! The basement bar was done! The glass shelves you see were re-purposed from the basement bathroom before it was updated.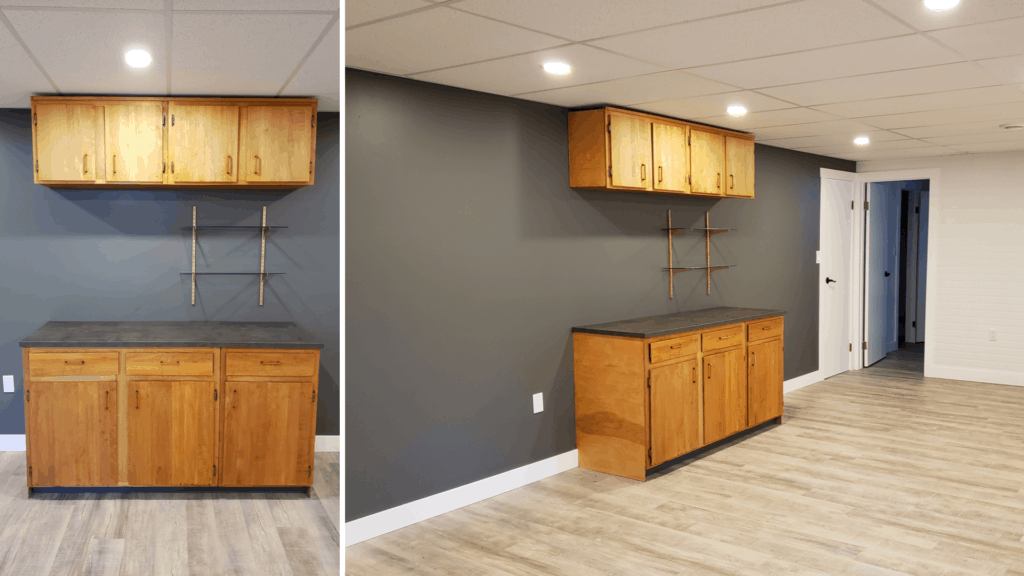 The entire project cost less than $100 dollars to complete. Better yet, it took less than a day. If there was a few extra dollars in the budget, I would have stretched this basement bar slightly to include a bar fridge.
5 Budget Bars we love
1) Brimnes and Butcher Block home bar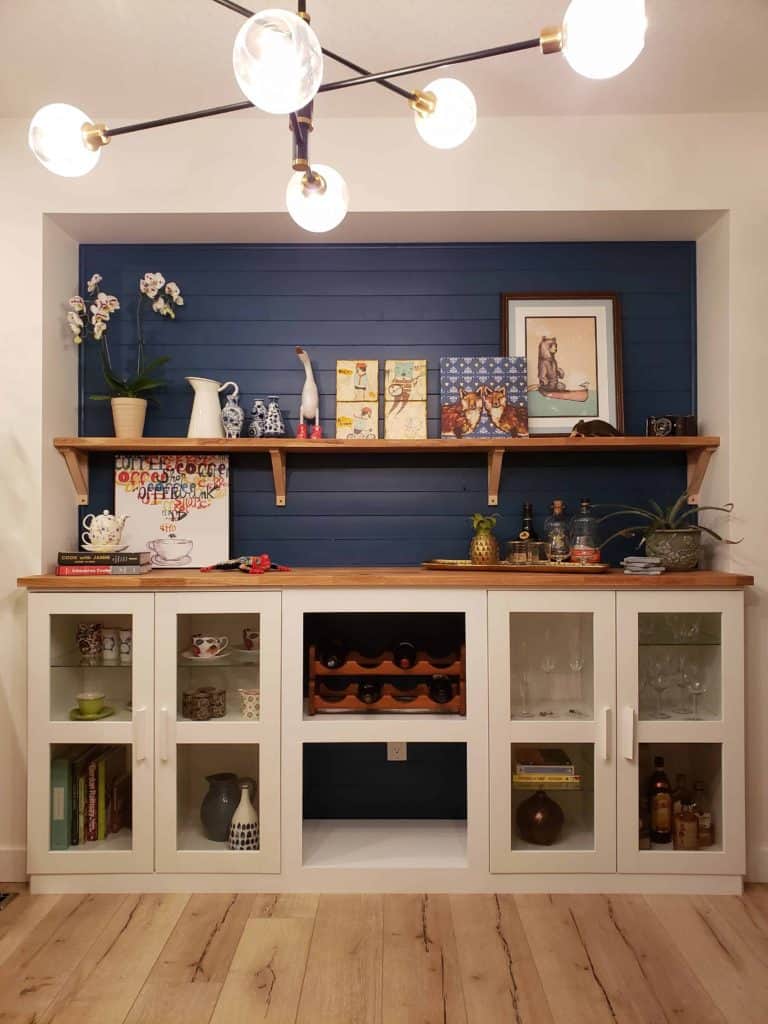 This is one of our favorite bar ideas. Okay, maybe I am a little biased… I did build it after all. This IKEA home bar hack is on the more expensive side, but worth every penny!
2) DIY Pipe bar cart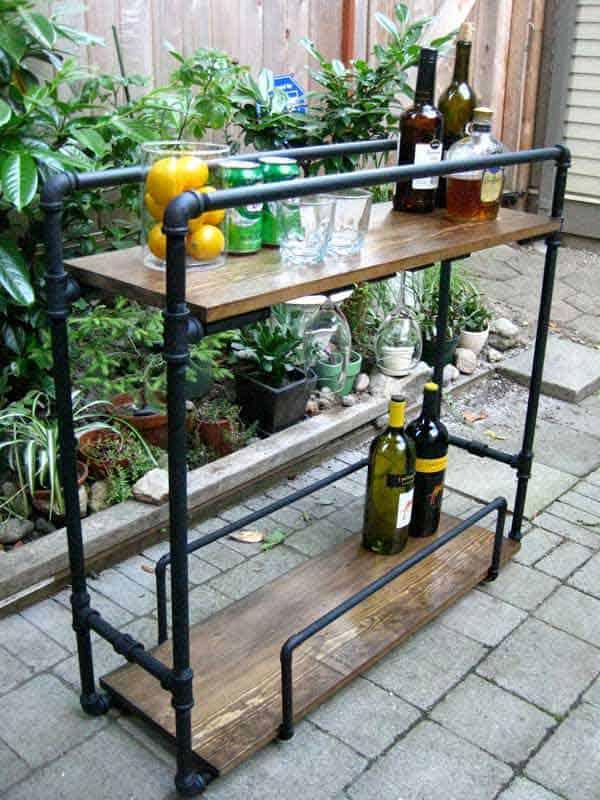 This is a simple DIY bar that can be easily completed in a weekend. It's not fancy, but it's certainly on trend and looks great.
3) Bar made from pallets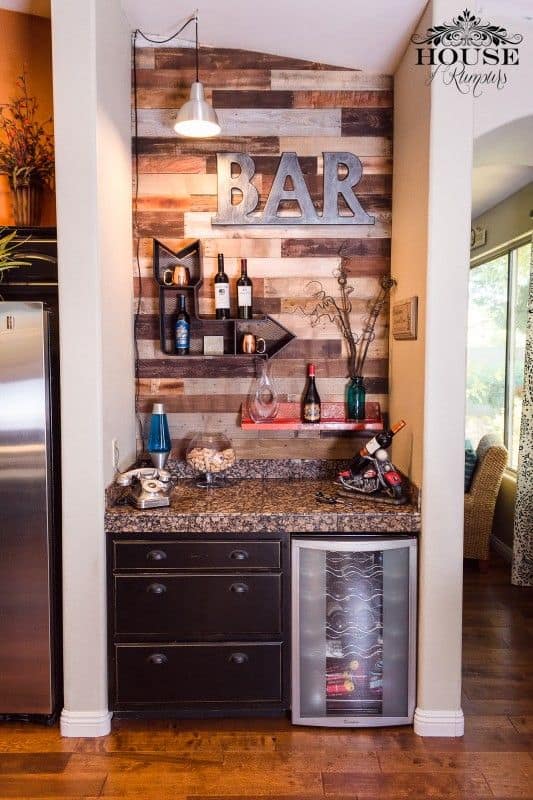 The rustic nature of this pallet bar oozes character and adds far more functionality to this otherwise wasted space.
4) Rolling bar trunk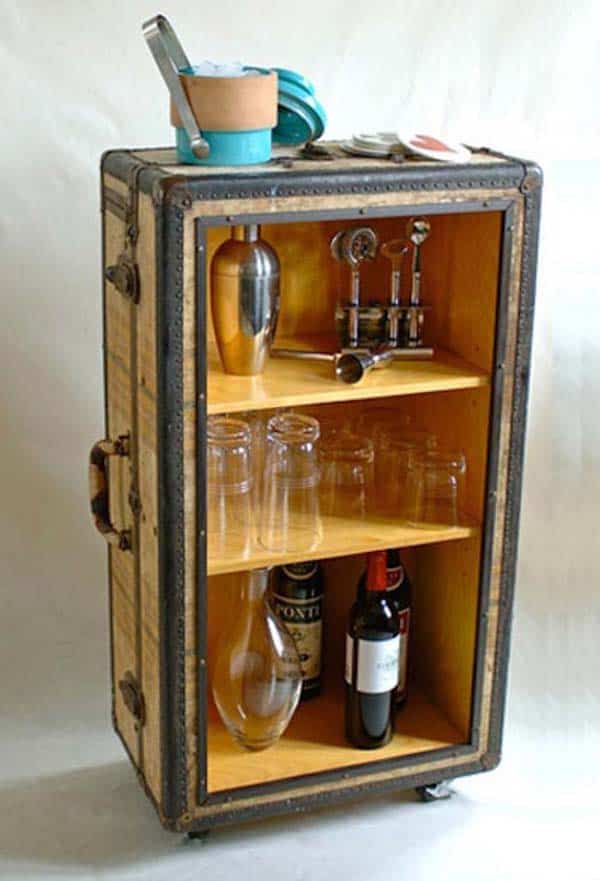 Tight on space? Make yourself a small bar cart out of an old trunk. I would suggest adding a small wine rack on the bottom shelf for storing wine bottles sideways.
5) IKEA Ivar Bar Cabinet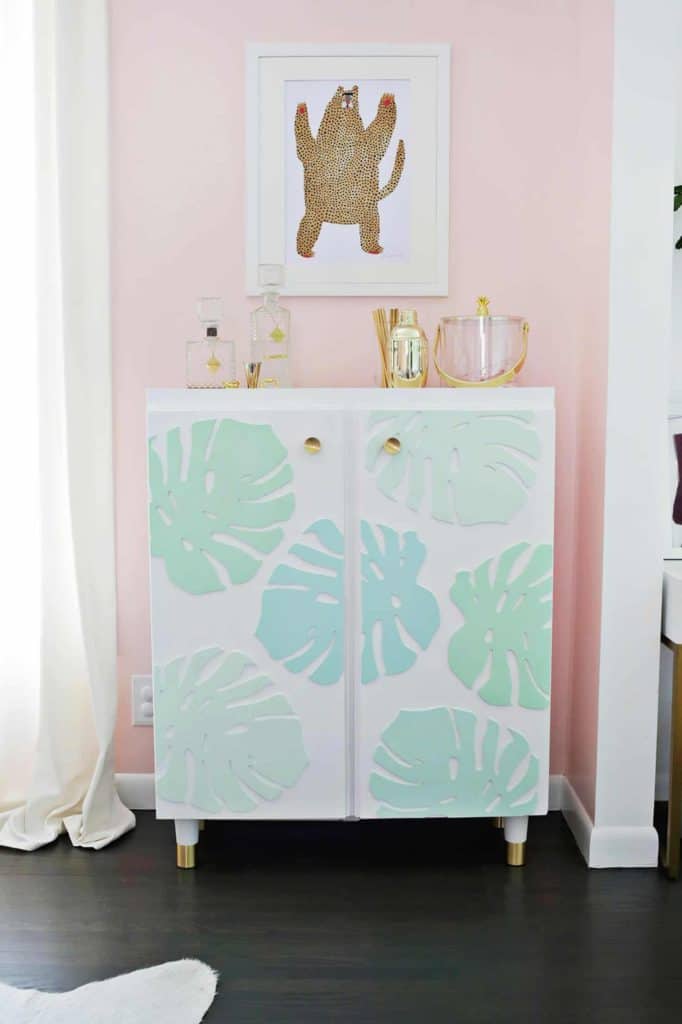 Another small option is the IKEA Ivar bar cabinet from the ladies at "A Beautiful Mess". It's amazing what some paint, legs, and colored accents can do to create a one-of-a-kind bar.